Innovation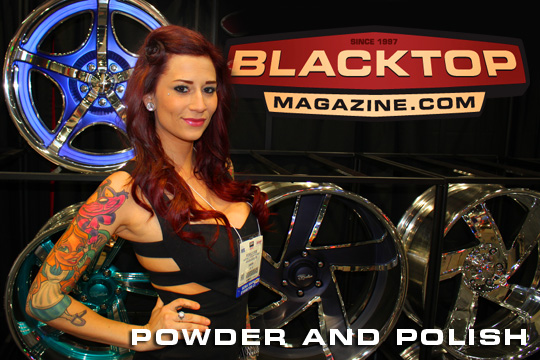 Photos: Billy – Story: T-Bone
While in the central hall's "Hot Rod Alley" at the SEMA Show I was mesmerized by a certain cobalt blue and polished billet wheel. The color just popped out and even the buxom model in the booth couldn't keep my eyes off the bling.
Chuck Blayney noticed my gaze and we started to talk about his line. Away from the Wheel and Tire section in the South Hall, Raceline Wheels had an impressive booth with a nice array of custom wheels. We started talking and found out that Raceline is just about 2 miles from our garage here in Garden Grove, CA. Sounds like a shop tour in the making to me.
There was a cold snap moving slowly across the country, and Southern California, who's average is usually around 68° is about 10-15 degrees below average. Billy and I layered-up and took the '56 out for a joy ride and catch up with Chuck at Raceline Wheels. We expected a small hole-in-the wall type shop with a couple of CNC machines. A simple Google Map search would have proved us wrong, but we went gonzo and just found the place on a bit of a whim. We were surprised at the size of their campus. Billy wished he brought his wheel chair for this, instead of hoofing it on the sticks.
Raceline builds and distributes wheels for anything from an ATV to full-size trucks. The expansive warehouse was full of waiting inventory of their "standard" line if wheels. We were there to take a look at their custom line and happened to see the crew inserting some Supreme centers into the hoops. Raceline is the custom side of the Allied Wheel Components who make the classic Supreme's, Superspokes, Smooties and Rallye wheels
So what's the big deal with Raceline? They were the first to come out with powder-coated and contrasted cut wheels for cars and trucks. It took a bit of finesse to 1) find the right partner to powder coat the wheels and 2) to make designs, which worked well with such an endeavor. Being first to market gives Raceline a competitive advantage with experience and ingenuity. As others begin to copy off their success, they are moving on to the next great thing.
The Raceline Custom Wheels come in 17" – 26" and are made from Forged Aluminum center blanks. They have nearly two-dozen different styles to choose from. Simply tell them the size, color, finish, offset and bolt pattern and you are set with some bitchen new wheels. They also have several designs with matching steering wheels!
Visit www.RacelineWheels.com today and take a look at their Wheel Designer. It's a configurator where you can choose color and finish options.