Made from Scratch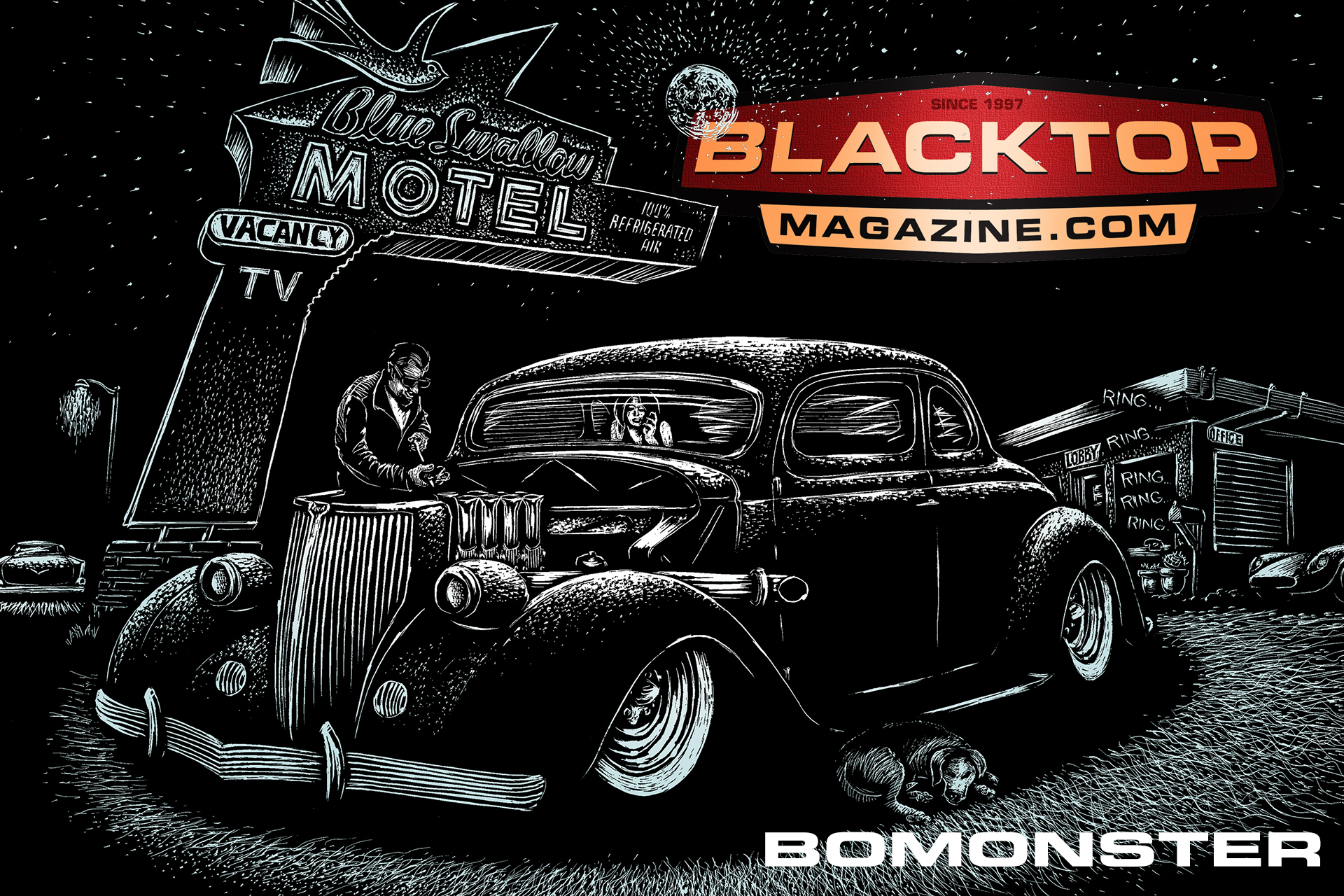 All my work starts out as black-inked clay-coat board and I scratch off the surface with an X-acto knife to reveal the white layer underneath. It's not exactly drawing in reverse – more like drawing the way light hits an object.
I grew up in Los Angeles, and watched my dad build his own race cars during the week after work cutting up cheap old cars out of the classifieds and turning them into one-of-a-kind six-cylinder roadsters completely stripped down for ¼ mile speed runs in the D/Roadster class. He took me to drag strips all over So Cal – San Gabriel, Fontana, Colton, Pomona, Lions.
I always liked drawing and I'm sure it came from him. He was great at pen and ink drawings and at night while we kids were asleep he would stay up and draw all kinds of cars he'd like to build. The next morning I would find them on the dining room table and he would already be up and out in the garage with the welding torch cutting the top off a recent purchase. Professionally he was a commercial artist and tried all kinds of ways to make money at it. He had his own T-shirt business at one time, published a motorcycle race results paper, and had his own small ad agency, which influenced me to get into advertising years later.
Think Different and Just Do it!
As in advertising, fine art and popular music, being different is what sets you apart from the crowd and gets you noticed. Fundamental skills are required but finding your own style is more important than drawing perfect lines. The balance we have to find is that we're all influenced from the same car and bike cultural icons and references. We can't be so different that the work doesn't connect to an old-school heritage. As I work on my own stuff I think about what I like about the styles of Ed Newton, Robert Crumb, Stanley Mouse, Rick Griffin and Bill Campbell but more than likely they were thinking about Tex Avery, Basil Wolverton, Harry Chester, Salvador Dali and Walt Disney before that.