You could say it's all my Uncle Doug's fault…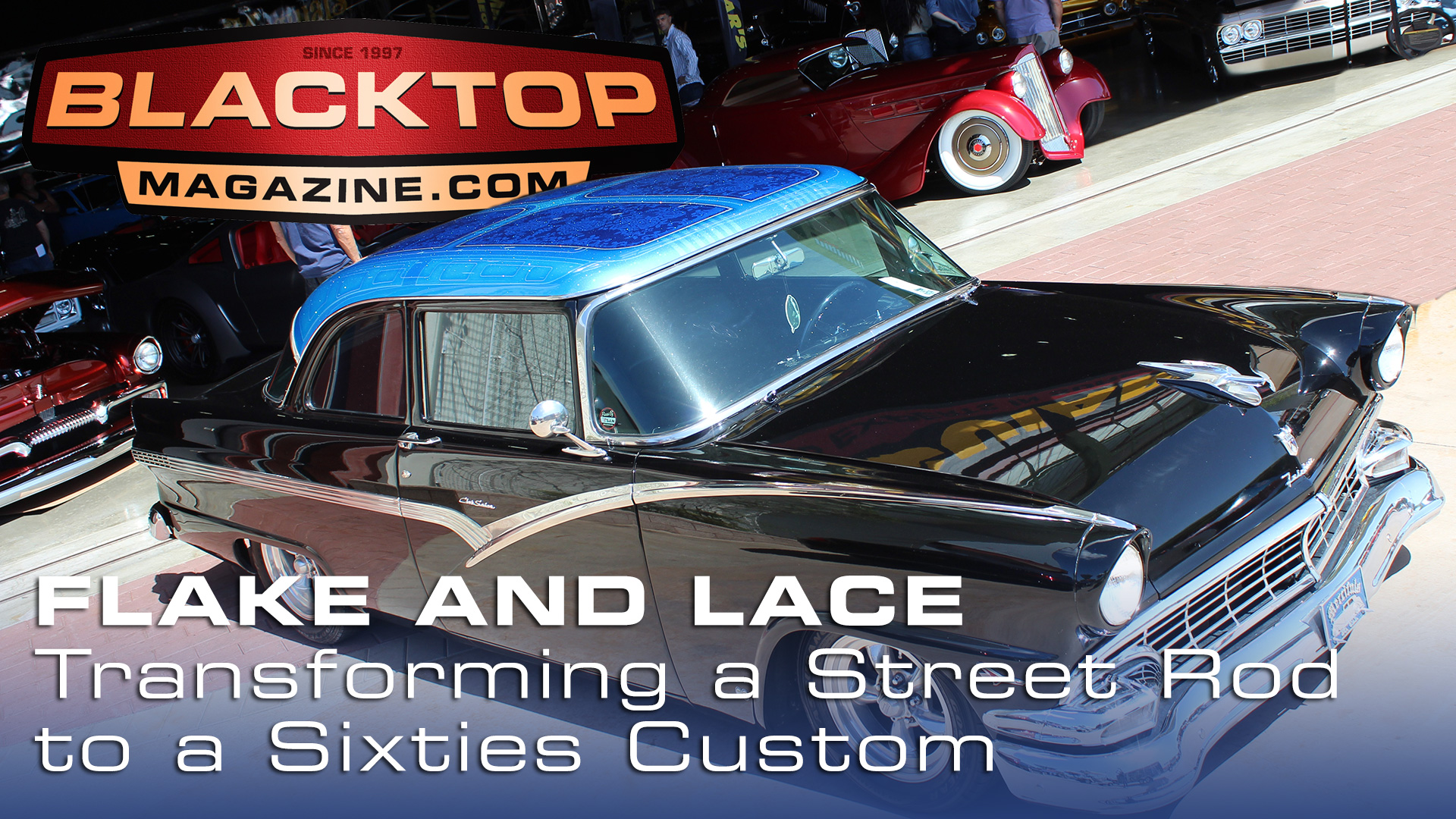 In 1969 he and his buddy Jim painted a '64 GTO Competition Orange with Black Lace Stripes in our home garage. I was seven years old and can see the overspray as if it was yesterday. From that point on, I knew I was going to have a car with black lace.
Watson, Winfield, Barris, Jeffries, Von Dutch and all the kats with their wild paint is something I have been really diggin' lately. Metalflake. DAMN! I can't get enough. Everytime I see a custom with a wild paint job, I am drawn like a moth to a flame. My buddy Ron Cambra stepped up said he'd have Hitoshi paint it in his shop.
I was floored. Ron also introduced me to Paul and Frank at PPG. We went out there and as you see in the previous pages we did a great tour where Frank mixed up the paint and all the reducer, sealer, mid and clear coat we would need.
I told Ron and Hitoshi the story of my uncle and that all I want need to have on it are four lace panels. I gave them a design with speed panels and a star in the middle. I asked Hitoshi to put his mark on the rest! He came up with the sets of stripes running through and a bitchen pattern of outlined panels, with an infinity line on the side panels.
As for the lace, in the back of my mind, I wanted to have roses in the lace. My mom loved roses. My wife, Tracy gave me one of her tablecloths to use as a mask. And wouldn't you know it, they had a cool old school doilie looking roses on it.
We started with a metallic silver base coat, then Hitoshi sprayed two pints of Ditzler "Big Flake". Six coats of clear brought the deep enough to sand out the edges and make smooth for the graphics.
It took Hitoshi two nights to lay out design, all taped and masked. He left the lace panels open for me to lay down the lace.
We started on a Saturday morning. Hitoshi shot the lace panels with PPG Black in about 3 thin coats. We removed the lace and after a moment for the paint to dry we cleaned up the glue from the lace. Then he sprayed coat after coat of candy blue all the while removing different parts of the graphics to get the desired effect.
We each gasped slightly as we took each layer off to see the design come alive below. We kept the tape edge of the main panels and the infinity line till the end where there is no candy blue on top of them.
A half gallon of clear on top of the candy and a full day of sanding and buffing. Now the car was ready to be revealed. Rick Abate invited the car to be showcased in the Meguiar's Hangar at Cruisin' For A Cure. I told him of the top being painted with metalflake and asked if we could park it out front of the Meguiar's Hangar. He said: "Sure!" So we had the pleasure of unveiling the car at the largest one-day charity car show in the World.
I am super grateful to all my friends who have helped, inspired and made this a reality!