Paternal Inspiration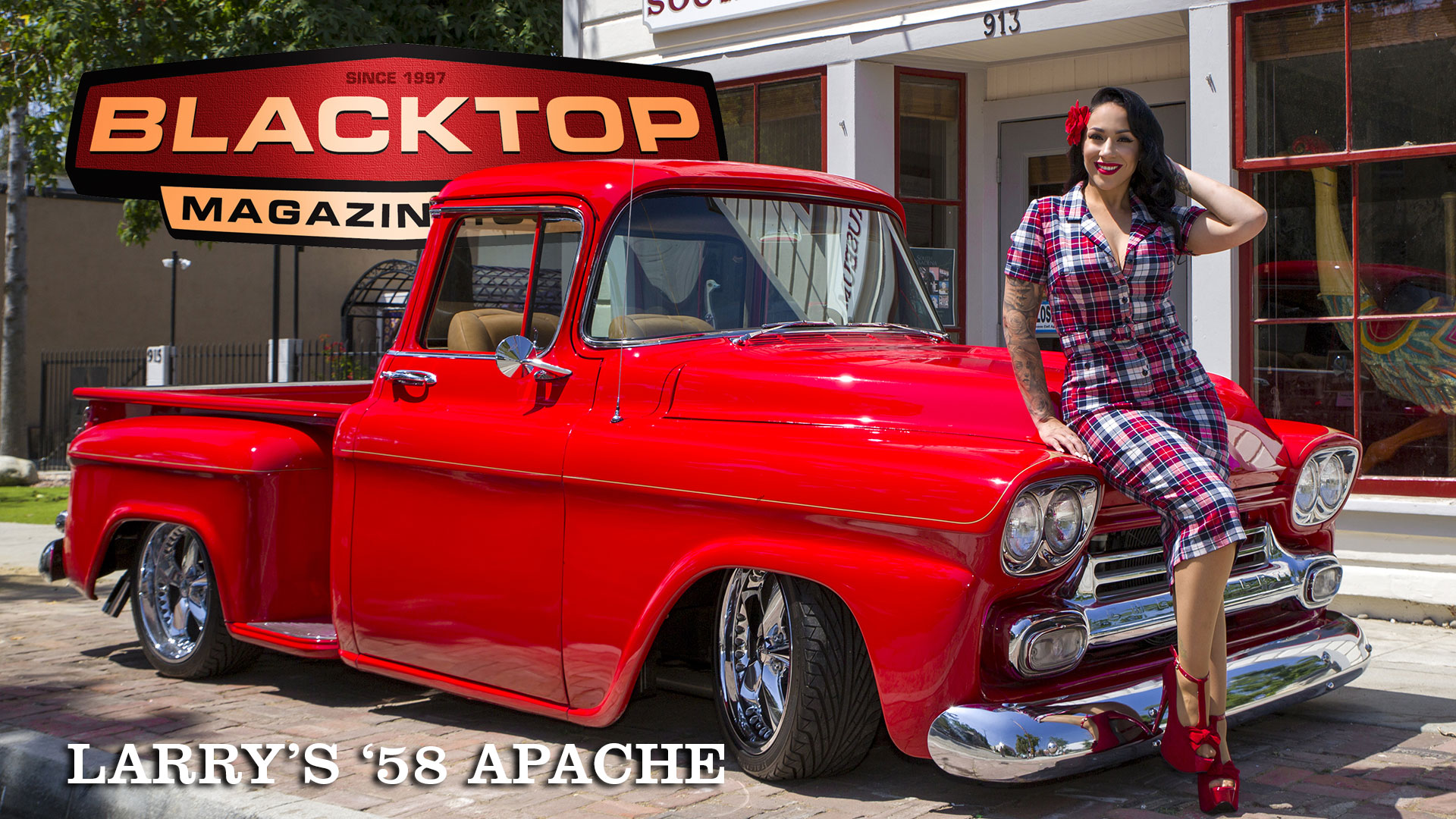 An old photo of his mom and dad with a '50's era Chevy Truck in the background sparked a cylinder in Larry's head.
That spark led to an inspiration to some day have an old Chevy truck to cruise around in like his parents did back in the day.
Soon enough, Larry got a hold of a '57 small window that was all apart from the chassis and the rest in baskets. A true "Basket-Case". As he was putting it together he heard of this '58 on the market that was already painted and ready to add his special touches. He picked it up and quickly sold the '57 project to a friend.
First thing to go were the rims and add a set of 18" Foose Nitrous wheels with some 235/40's all around. Then he dressed up the engine compartment. A buddy of his built the polished stainless steel firewall cover. The interior was all done and Larry added Vintage Air for a more comfortable ride. A ride that sits on airbags, ready to deck the nose into the weeds. The wiring was a mess. A mix of original and cobbed up work here and there. In-fact there was 4 lines running off the switch positive, one that led to the radiator fan! So, he picked up a harness from Painless and got busy re-wiring the whole thing. He hid the wiring into the left front fender to keep it clean under the hood. [I did the same with project Riff-Raff]
What's really cool is Larry taking his parents out for a cruise reminding them of the good days. The truck shares a garage with a '64 C10 that Larry built from the ground up. Watch for an article on that truck soon. So what's next for Larry, He is currently searching for the next project, a '54 Bel Air Hardtop.
Story: T-Bone, Model: Lola Lovelle
SPECIFICATIONS:
Builder: larry ortiz/jimmy fox
Year: 1958
Make: Chevrolet
Chop: none
Channel: none
Section: none
Other Body Modifications: Battery moved to frame, stainless steel firewall, 1967 impala door mirrors, stainless steel tail gate cover.
Grille/shell: stock
Paint Color: Chevy fire red
Paint Type: Acrylic Lacquer
Painter: Robert Baltierra(classic oldies car club)
Custom Graphics: Pinstriping by Bowman (Long Beach Ca.)
Engine: Small Block 350 HP:375 Torque:400 Displacement:350ci Bore/Stroke:4.040×3.480 Compression Ratio:10.0:1
Transmission: Turbo 350
Intake & Carb: Intake Edelbrock Endurashine Carburetor Edelbrock Endurashine 650
Ignition: HEI
Exhaust: Flowmaster
Rear End: Ford 9" 3:00 Ratio
Suspension Front: Mustang II Air bagged
Suspension Rear: 4 link Air bagged
Brakes, Front: Disk (CPP)
Brakes, Rear: Drum stock
Wheels/Size: Foose Nitrous 18×8 rear 18×8 front
Tires/Size: Front 235/40R18 Rear 235/40R18
Seats: 1967 Chevy Chevelle tan vinyl and cloth
Upholstery: Custom headliner and console with cup holders
Dashboard: Dakota Digital Series III
Steering Column: Chrome (CPP)
Steering Wheel: Lecarra Leather wrapped tan
Interior Extras: Dash and Dashboard from a 1957 truck glove box shaved.
Windows: Big back window
Taillights: stainless stock
Club Affiliation: none
Anything Else: Valve covers and Air cleaner Billit Specialties, Billit Stepside covers (Brothers Parts Norco Ca.), Vintage Air.