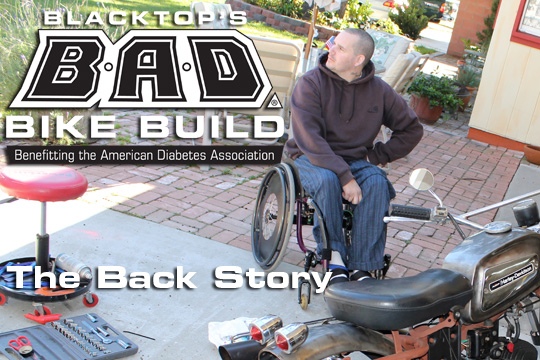 Father and Son team Tony and Billy from Blacktop Magazine were looking for a unique way to make a significant contribution to the Rip's B.A.D. Ride benefitting the American Diabetes Association. We came up with a concept to build a chopper, share the progress of the build on The Blacktop Media Network, and then sell the bike and donate half the net profit to the ADA. Thus the B.A.D. Bike Build was born.
The project started off as a Blacktop Budget Bike Build where we build a bike with parts only from the So Cal Cycle Swap Meet. A neat idea, but we wanted to do something more. We wanted to make it a charitable project as well and give back to the community. We told Steve Schapiro about the project and he said, "Why don't you do it to support Rip's B.A.D. Ride and the American Diabetes Association?" We immediately agreed. We worked with the Rip's B.A.D. Ride before. Two years ago Blacktop Magazine hosted their first-ever car show on the grass in the middle of the show. I have learned quite a bit about the American Diabetes Association (ADA). Did you know that they use less than 20% of their income on operations and administration? That means over 80% of what you donate to the ADA goes directly into research to a cure and helping those – like many members of my friends and family – who suffer from Diabetes. THAT'S AWESOME.
I called Heather Erickson at the ADA and told her our plans and she was ecstatic! We look forward to working with her and her team to make the Rip's B.A.D. Ride awesome, this year and NEXT!
We are hoping that this idea will spread and others will do something similar. Heck if we could do it, so can you. If you can't then we want you to help us. We will be sharing all the trials and tribulations of the project with you here at Blacktop Magazine, in our print publication, our YouTube Channel, and e-News.
We've never done anything like this before and look forward to busting some knuckles, having some great time in the garage and meeting really neat people. Come along for the ride. You will be able to keep up with all the links and articles on our BAD Bike Build page. The link is at the top of our PAGES list on the right column of the site. If you want to help sponsor the project please call us at 949-584-5669 or click this link: BADbike@BlacktopMedia.net
So the project is on. We are pleased to have Schapiro and Leventhal as a Primary Sponsor, the So Cal Cycle Show and Swap and Cyclepath Cycle as supporting sponsors. We invite you to visit their links and send them a note of thanks for being involved.