Run for a good cause…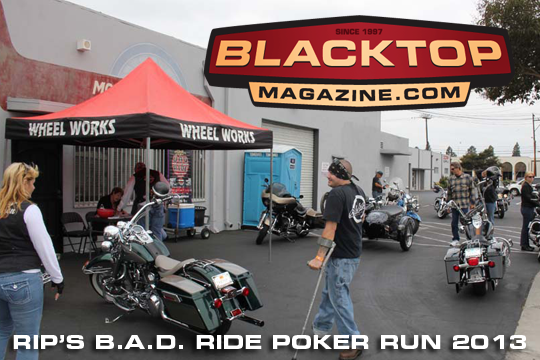 Story/Photos/Video: T-Bone
There have been some changes for Rip's B.A.D. Ride this year. B.A.D. stands for Bikers Against Diabetes. The American Diabetes Association has opted to not hold a Festival this year as in years past, because the cost of the Festival was so high it was threatening the non-profit status of the event. This year they are managing several "third party" events to support the fundraising riders with their campaign efforts. And it appears to be working well.
A bit of history: Rip Rose was a roving editor for Easyriders magazine and started the B.A.D. Ride to help the American Diabetes Association find a cure and help those suffering with the disease. For the past 15 years the event has had a festival to include a famous band, a big park, bike games and more! A great time had by all. In-fact, two years ago we were asked to host a car show in the middle of the festival only weeks before the event took place. We called some great friends and had an interesting variety of vehicles on the grass in front of the stage.
Back to the Poker Run.
We woke a bit early and headed out to Lifestyle Cycles where Junior and his crew set up a nice pancake breakfast for everyone. Registration was only $10/hand and that included the breakfast at Lifestyle and the BBQ Lunch and Party at Rock & Roll Paintworks, the final stop. Billy drew an Ace of Spades on his first hand, and I drew a deuce of diamonds. The second stop was at Los Angeles Harley of Anaheim where the crew from the Edge Motorcycle Club were dealing the cards. I drew a three of spades and Billy ended with a 9 of clubs. Then we headed out to Westminster Harley-Davidson where Candy and her friend were the designated dealers. Billy drew a 6 of something and knew he was dealt a crappy hand. I drew a 4 of hearts which led me to a low straight. At Wheel Works Dave and Gary had a nice little set-up and I drew a 6 of clubs and quite frankly I don't know what Billy pulled, but I know it wasn't good. Now all I needed was a 5 of anything and I could get me a straight.
We took a break from the Poker Run to head over to The 401k Club Hot Rod Shop's Open Garage. Dana and the crew are thrashing about on the "Fast on Wheels'" 1969 Camaro-Wagon designed by Keith Kaucher. They are just about done with the body mods and getting it ready for paint. The custom will be unveiled at the SEMA Show in about 6 weeks.
Back to the Poker Run and we headed to the final destination and party spot: Rock and Roll Custom Paintworks. Randy had a nice BBQ lunch for all the runners and opened his shop for all to see the custom paint. Dang! There's some nice stuff there. Steve Schapiro introduced us and Randy said he'd like to help on the BAD Bike Build. Look for some crazy paint when the time comes. Kade from Unknown Industries was there doing some sick stunts on his Harley. You gotta check out our video on Blacktop TV.
October 6th is the Bartel's Harley-Davidson's 30th Anniversary ride to Malibu which will benefit the Rip's B.A.D. Ride. We will be there helping spread the word on the project and supporting the American Diabetes Association! See you on the road or in the garage!