Over 300 Bikes roll up the  Southern California Coast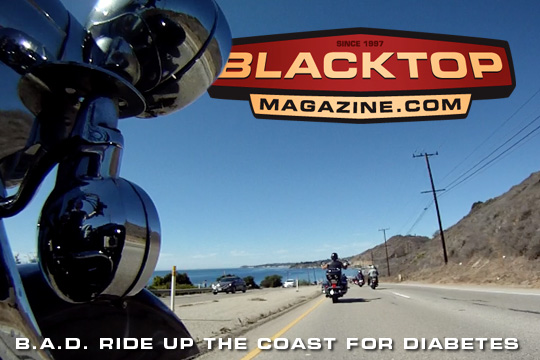 Story, Photos and Video: T-Bone
Boy what a ride!
In an effort to help support the American Diabetes Association's program Rip's B.A.D. Ride, Billy and I signed up for the Bartels Harley-Davidson's 30th Anniversary Ride. Bill Bartels and family have been supporting the Rip's B.A.D. Ride since it's inception 16 years ago when Rip Rose, a photo journalist with Easyriders magazine launched to event to help raise funds to combat Diabetes. He died a few years later, but the event has endured. In the past several years it has waxed and waned in popularity, but there is no denying how valuable the program is for the A.D.A..
The event started with an outdoor concert in front of the impressive Bartels Harley-Davidson dealership on Pacific Coast Highway in Marina Del Rey, California. Over 300 bikes gathered for the ride. Celebrity Grand Marshall, Mickey Jones inspired the crowd. We set up our cameras on the bikes and got ready to roll.
This was a top-knotch event. Bartels hired a crew to escort the riders up 40 miles through Venice, Santa Monica and Malibu along the coast and through all the traffic lights. Mark "Hook" Johnson rolled with Billy and I toward the back of the pack. If I might make a suggestion for anyone riding in a large group like this. Ride in the back. By the time people in the shops along the route hear a string of riders they come running out with their cell phones in hand and are shooting us as we roll along. We felt like celebrities!
Check out the video from the ride on Blacktop TV.
The ride stopped at Sycamore Cove State Beach just above Malibu across the Ventura County line. What a neat little park. A California State Park with sycamore trees lining the sandy dunes to waves breaking on the sand. Not a great surf spot, but a nice picnic  and party. The Fryed Brothers took the stage for a bit while we all grubbed on BBQ'd tri-tip and chicken. Good eatin's. Then Steve Schapiro and Mickey Jones took the stage to thank everyone for coming out and supporting Rip's B.A.D. Ride. They introduced a couple of ladies who were instrumental in putting on this year's event and then brought up Bill Bartels and Lori Stevens who started the B.A.D. Ride 16 years ago. They finished the announcements with words from Rip: "We will continue this ride, till we don't need to anymore, because there will be a cure for Diabetes." You can help the cause by supporting the Rip's B.A.D. Ride with a tax-deductible donation at www.RipsBADRide.com.
Thank you for your consideration, and please stay tuned to our project: Blacktop's B.A.D. Bike Build to benefit the American Diabetes Association through the 2014 Rip's B.A.D. Ride! www.BADBikeBuild.com