This is how we do it…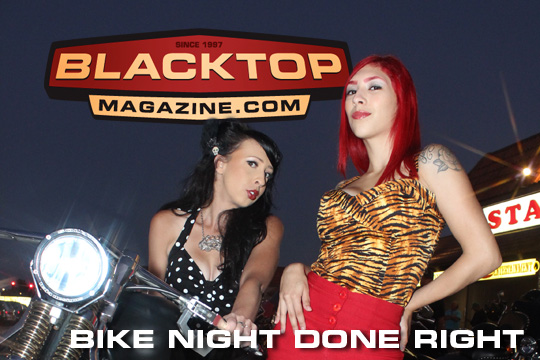 Story: T-Bone, Photos: T-Bone/'Carlos Gomez
We have been busy getting the word out about the B.A.D. Bike Build. Recently we hosted the popular Starting Gate Bike Night. To sponsor a bike night Jim and Hairball ask that you pay for the trophy. Well, we like to go all out here at Blacktop Magazine. We enlisted our friends Jack Petitt to build a custom trophy and expert pinhead "Stubby" to lay down the lettering and lines. Next I called 'Carlos Gomez from Shiver2SeeU who brought Miss Big Red and Melissa Swizz did us a solid and came out to join in the fun. But, what's a Bike Night without a couple of custom cars? Several of my buddies from Mercifuls So Cal came out to help support the night.
Our friends Terry and Potter came out to the show too. We set up our booth and passed out over 200 flyers introducing the project. We got a standing O when we announced the project to a capacity crowd at the Starting Gate. When it came time to give up the trophy we had to hand it over to Manny who brought a bitchen O School Choppers bike. Some of you may remember the feature we did on the Sin City shop. Check it out here.
The evening ended when the ladies climbed into Jack's trunk for some good times.