The B.A.D. Bike Continues a Tradition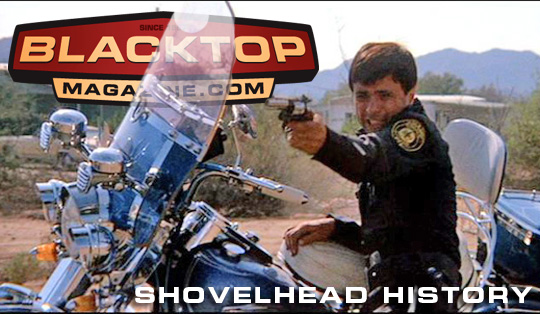 From 1966 to 1984 Harley-Davidson manufactured the Shovelhead engine. From 66-69 the Shovelhead used the Panhead style generator case (Pan-Shovels). From 1970 they incorporated an alternator bottom end (Cone-Shovels). Late in 1978 the motor company increased the displacement from 1208cc's (74 cu in) to 1340cc or 82 cubic inches. Our B.A.D. Bike features an 82 cu-in 1980 cone-Shovel.
The Shovelhead name came from the appearance of the new rocker box covers. Different from the rounder Panhead designs, these rectangular rocker boxes with their two bolts looked like the head of coal shovels when inverted. The design produced 10% more power than the Panhead it preceded without changing displacement.
During the Shovelhead Era of Harley-Davidson Motor Company, the family sold their interest to American Machine and Foundry (AMF) in 1969. AMF streamlined production and slashed the workforce resulting in a labor strike. A dozen years later a group of thirteen investors headed by Willie G. Davidson purchased the near bankrupt  AMF/Harley-Davidson. Inventory was strictly controlled with a "just-in-time" system. Instead of copying design from Japanese manufacturers, the company exploited the "retro" appeal of the brand.
Famous Shovelheads?
Electra Glide in Blue – In 1973 Robert Blake starred as a motorcycle cop in the indie cult film Electra Glide in Blue. A story where Blake rides his Shovelhead powered Electra Glide to rise from beat cop to detective, only to find his superiors are corrupt. Directed by music industry manager of the power-band Chicago James William Guercio. Some of the band members make a cameo including Terry Kath who played a gun-wielding killer then actually died 5 years later from a self-inflicted gunshot wound to the head.
Ron Finch's Loop Hole – Crazy artist and motorcycle nut Robert Finch created an amazing custom bike from a 1973 Shovelhead Motor. Loophole features an exhaust system that loops through the cylinder chambers in the frame above the motor. A gas tank in the rear fender and his signature custom rod work over the front fender and floorboards.
Shovelheads continue to impress as a fairly dependable, easily upgrade-able and simple design. We are very excited to contribute to this incredible part of American History.