Ten Years Gone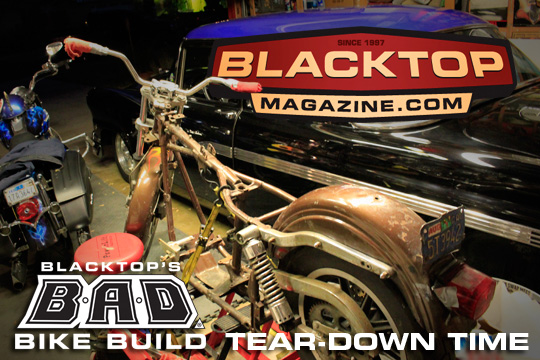 Photos/Story: T-Bone
The B.A.D. Bike is a 1980 Harley-Davidson LowRider. As we begin to tear down what's left of this highway carcass it's easy to get lost in the stories this steel steed could tell. It appears to have quite the well worn past. Looking back at the license plate it appears to have last been registered to ride on the roads of California in 1990. Sometime in it's ten year history it was torn down to the frame and painted metallic brown with traditional hot rod flames on the tank and bobbed front fender. The swingarm was chromed and plenty of acorn nuts were used.
A layer of grime on the skid plate launched our swirling heads. The grass and weeds that was caught up in the main shaft between the trans and the inner primary add to the day dream. So here's this guy who walks into a Harley-Davidson Dealer in the end of Fall in 1979 and plunks down the cash and rides out on his new Lowrider right to his buddies's paint and body shop where they tear it down and paint the frame and tins. By early 1980 the bike is put back together and the journey begins.
So we begin our journey. Giving this bike a new life. 24 years a slave of time and elements, it is time to make it great again. We dug into the two boxes that came with the bike to find that the plastic bin must have sat in the rain at some point. A waterline up the side of the box marks the pool and a layer of rusty dust now cushions the once shiny parts.
Today we took off the starter, trans and inner primary. The stock horn is going. We may use the cover as an air cleaner for the Mini-Chop I. We ran across a star bolt and realized we didn't have a wrench for it, so we grabbed our handy Grip-Tite wrench and it came right off. These things are cool.
Yet, I can't stop thinking about the grime and weeds. If the tins could talk, oh the stories to tell. I guess I will have to channel my inner biker and share the story with you at a later time. Stay tuned.
If you want to be a part of something Really, REALLY B.A.D., visit www.BADBikeBuild.com. We are looking for stories of people who have overcome incredible challenges all in the name of pursuing their dreams.
In the meantime, we will be hitting the So Cal Cycle Swap Meet this Sunday on the hunt for a front end and new tins. And placing our first order at Hillco Fasteners for some new hardware.
There's an old Harley in our garage that won't be old for long.