Now What?

Story: T-Bone
If you are like us and have never built a bike from the ground up it can be a bit daunting. Sure the TV shows show how easy it is, like a snap-together kit. Most of us know those shows are far from "reality".
This article is a dive into the style and planning for building a bike from scratch from a father/son novice build team.
Recap of the project.
Thanks to our friends at Schapiro and Leventhal and So Cal Cycle Swap Meet we were able to start the project. For four months Billy and I were working on getting a bike. We gave ourselves to the end of the year to find a donor bike. Three days before the New Year and a friend introduced us to his buddy who donated a bike he was going to clean up and flip. So now we have a 1980 Shovelhead that was custom painted down to the frame, ridden hard and left to sit for 23 years and get parts scavenged off it. The engine was at a trusty engine builder friend named Mitch who had in line for a good going-over. When we get a new carb, K&N will be sending us a filter. The clutch was all rusty and falling out of the primary. The kick/electric cow-pie 4-speed will need some new guts. Barnett heard about the project and sent us a Scorpion Clutch. We sure have some great friends out there. The inner primary looks toast where the bearings for the transmission main shaft are housed. The oil tank is in a box with a bunch of rusty parts. It appears to be fine. Needs some cleaning up and all. The gas tanks are hollow and rusty inside. The rear fender is beat. That's all I need to say. The rusty chrome swingarm is getting a bath in Evapo-Rust then painted with the frame. We had always planned to have a different front end. A springer is our first choice and when we were talking to Ed at Huntington Beach Hogs and Choppers he pointed to a polished DNA Springer with a 5-3/4" grooved headlamp. Dang! We are very grateful to all our friends who surprise us each day! There was no seat on the bike so Billy called on Sherry at Danny Gray and they are going to make us a custom seat. We are getting a bitchen set of wheels and tires from Wheel Works. Thanks Gary and Dave! The controls were scavenged off the bike. Tom Van Allen gave us a forward control set off his old scoot. Hillco Fastener Warehouse is supporting us with any fasteners we may need on the project. Currently we have a bone-dry bare frame sitting in the garage with a bunch of miscellaneous parts in boxes bagged and tagged. We are building a prize package too for the winner of the auction. Butler Motorcycle Maps is starting the package with a Master Collection of their maps.
Where we want to go.
So now we can talk about styling. We have cruising the web pretty hard looking at a ton of bikes. Most of the ones we like were hard-tails. Plain truth right there, a hard-tail bike always look bitchen. However, we want a bike that someone is going to want to ride all day long. Or at least a couple hundred mile day trip. So we are keeping the bike sprung. We have debated about adding a side-car or building a trike. The reason for this build is to help the American Diabetes Association. A trike would be very rideable for a person who's feet are challenged with the disease. However, we just plain don't have the room to build a trike or a sidecar'd bike. Also as our first build, the geometry alone is a bit overwhelming.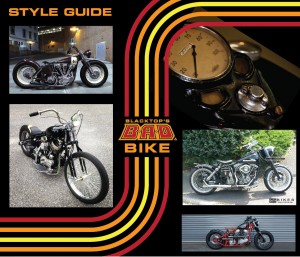 We have decided on building a vintage inspired bobber. The frame and swingarm will be either powder coated or painted a pearl orange with satin finish. The 3.5gallon tank is black with a blue pearl and red/orange/yellow B.A.D. Bike graphics and pinstripes. The transmission and engine will be blacked out with bead-blasted rockers and timing cover. The outer primary, oil tank, battery cover, headlamp bucket, air cleaner cover and chain guard will be painted like the tins. The handlebar, front end, license bracket, taillamp and turn signal housings will be black powder-coated except the chrome springs and fasteners. The hand controls are bead blasted as well as cat-eye dash and tank caps. The wheels are 19×130's front and rear with black rims, stainless spokes and spool. The sprockets and rotors are black. The seat will be a solo-saddle with 1" pleates and detailed stitching. We are looking at a custom set of 2 into 1 exhaust coming straight back along the frame.
How we are going to get there.
OK – We know where we are, where we want to go. We know what parts we need, mostly. What's next? I look back to my planning days in the construction industry. I was a scheduler for a commercial property construction/development firm. The schedules for a high-rise could be 12' long and 3' high. Drawn in the Critical Path Method showing each trade to work on the project from street to roof. I thought, maybe we could use something like that for this project. We can add detail to the schedule as we discover more to do. And, I think there will be plenty of that.
"Oh, we got to get a dash." Sounds simple right? We can go to the swap meet and start gathering all the parts. The dash with lenses, then we need the switches, lights and speedo. "And the wiring harness. And the rubber gaskets. And the mounting hardware. Get it. There is always more than meets the eye of the "reality" camera.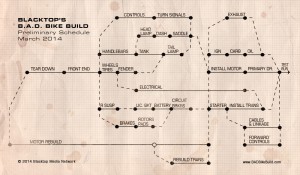 So here is my attempt to what a bobber building schedule would look like. This is the pre-build side. After the test run, it's teardown and paint, powdercoat, polish and build schedule. We will rely on a lot of great friends like Carl at Cyclepath, Steve at Motowest and Chris at Los Angeles Harley-Davidson of Anaheim. A big shout too, to the boys at Primer Podcast for sharing the word on the project. We are looking forward to your comments and feedback. Please message us below or comment on Facebook.
What do you think of all of this? E-mail us at BADBike@BlacktopMedia.net. Do you want to be a part of something really, really B.A.D.? We could sure use your help. Visit www.BADBikeBuild.com or follow us on Facebook.