T-Bone and Billy Show the Progress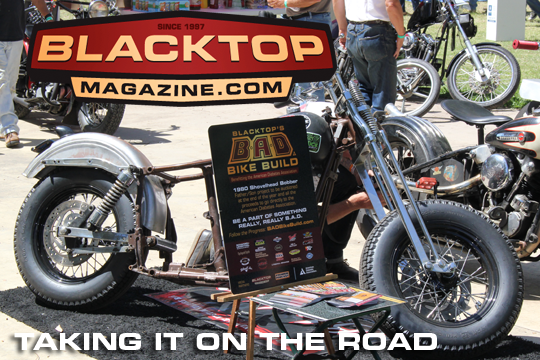 Photos/Story: Blacktop Staff
We recently took the project on the road to show some of the progress.
You may look at it and  think that there's not a lot there. We agree, but there has been quite a bit of work on the back end securing the parts we have from some great friends. The last article shares who has helped us get at this latest stage. We were hoping to have the motor in it, but Caveman is really doing a great number for us and needs to take his time making it a jewel. Can't wait to see it.
We first showed it at the Rip's B.A.D. Ride to Pala Casino. It was a perfect day for a ride in the hills and valleys of Northeastern San Diego County. We set up next to Lyndall Racing Brakes and Schapiro and Leventhal across the field from the stage. We all were scratching our heads as to why the event had such a low turnout. Nonetheless, those who were there were treated to another first-class B.A.D. Ride experience.
The very next weekend we were invited to show our project in the L.A. Chapter of the Antique Motorcycle Club of America's showcase area and swap meet. This corner of the event was a nice quiet area where builders can come and buy/swap parts for their projects. Billy was interviewed from the film-crew hired by Born Free to cover the event and T-Bone was interviewed by Easyriders magazine's film-crew on the project. We thought it would be a kick to display The B.A.D. Bike on carpet at the event.
The bike received plenty of interest. Mostly people thought it was cool that we were doing this to benefit the American Diabetes Association. It proves how each one of us know someone close to us who suffers from Diabetes. Our energy on the project was renewed and we secured a couple of great new sponsors, Lyndall Racing Brakes, BOMONSTER and Duane Ballard.
We have a list of the items we still need for the project on our website at www.BADBikeBuild.com. We invite you to take a look and help out where you can. Thank you all for your support!