The Bike Awakens from Hibernation.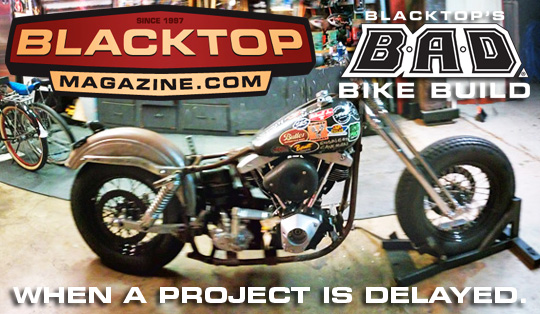 You learn more about a project than the tasks in front of you.
The B.A.D. Bike Build project has taught us quite a bit about ourselves. Billy and I learned how easy it is to get distracted and how quickly time flies.
I am sure this has happened to many of you out there. You begin a project and about halfway through the sails run flat with out a breeze in sight. The BAD Bike Build is one of those projects.
In August of 2013 we conceived of this idea to build a budget bike for a charity.  The initial idea was to build a bike from parts we found at the So Cal Cycle Swap Meet in Long Beach. Steve Schapiro planted the seed to do it for Rip's B.A.D. Ride. We started to build a full-size mild custom Harley bobber and then auction it off and donate the proceeds to the American Diabetes Association at the Rip's B.A.D. Ride V.I.P. Event. Billy and I set dates to reach certain goals. The first was to get a donor bike by the end of 2013. Three days before the end of the year a generous donation from a local builder came through. Our donor bike is a 1980 Harley-Davidson Lowrider all in parts and the engine at Caveman's getting built. As we began the project, aftermarket companies wanted to get involved. The idea of a budget bike went out the window as we started to get really nice parts for the bike. The project became a bit overwhelming. Nearly each week we were in the garage going at it. Tearing it apart, adding parts deciding on direction and contacting friends and sponsors for help. Our goal was to have the bike completed by the first week of November.
Plans change, bills needed to be paid and money needed to be made. Just after we received the jewel of an engine from Caveman, I opened Blacktop Depot, an auto/cycle memorabilia store in Orange. The opportunity was too good to pass up. However, what I didn't account for was all the time the store required. The project was put on hold for a bit. Get my time management down and then get back to work on it. 4, 6, 9 months flew by.  The partially completed bike was staring at me every time I went in the garage. Looking more and more overwhelming. Thinking of a way to get this bike done.
We have a couple of options. Take time out of the store to build the bike, have a buddy or buddies, help with the bike, just keep plugging away at it slowly, or bring on a professional builder to complete the bike for us as we cover the process. What do you think we should do?
Before any of that can be decided, we opted to take some time and assess where we are with the project. Here is a list of what we need to do and some of the parts necessary to complete the build:
Front End:
Wheel Spacers, Turn Signal Clamps and Headlight Bracket (being custom made by Ron Ponce), Speedo Drive Unit, the Fork Cap Nut needs to tightened, repack the Head Stock bearings, Mirror, cap the mirror hole on the right hand controls, Front Brake Calipers and Bracket, install the Front Brake Lines from Barnett, install throttle, install throttle cable(s) from Barnett and install the clutch cable.
Tank:
Obtain clear cross-over fuel lines, gas caps, assemble the dash from S&S, design and order the leather lower tank cover from Duane Ballard, install the petcock and fuel line to carburetor, and order the seat from Danny Gray.
Left Side:
Install Accell Coil, install Inner Primary, obtain Primary Chain Assembly, Install top engine mount, obtain Forward Controls (shifter and linkage) and brackets, obtain Starter, Solenoid, Oil Can Cap, Outer Primary Inspection Covers, Rear Shocks, Chain, Rear Sprocket, and Rear Axle Spacers, install Outer Primary, install Pegs and Rear Turn Signals from Biltwell.
Right Side:
Get Battery Box, Battery, Cables, Exhaust (and brackets as needed), new Kicker Pedal, rear Brake Caliper, Bracket, Rear Master Cylinder, Rear Brake Lines
Miscellaneous:
Obtain a Voltage Regulator, get correct engine mount bolts, restore and repair Kickstand, Ignition Module Assembly, bring bike to Mesa Cycle for wiring.
We are grateful for our sponsors with new parts from Barnett Clutches, Biltwell, S&S Cycle, Wheel Works, Hillco, Fastener Warehouse, LA Harley-Davidson of Anaheim, Butler Motorcycle Maps, Evapo-Rust, J&P Cycles, DB II Outlet, Torain, Lyndall Racing Brakes, and ACCELL.
We are also thankful of our friends for their help: Caveman, Primer Podcast, Cyclepath Cycle, HB Hot Rods and Hogs ,The 401k Club Hot Rod Shop, Motowest, LA AMCA, Mark Faser Woodworks, Richard Graves, Michael Derego, Chris Rasnick, Jack Petitt, Luke Denitto, Gil and Tina Gonzales, Holly Garret, Gabe and Tom Van Allen, Ron and Jeanette Ponce, Cary Brobeck, Leo Gonzalez, Jim Henry, Craig Taylor and Jeff Allen.
To learn more about the B.A.D. Bike Build, and to offer help, visit www.BADBikeBuild.com
Thank you for your continued support.