A 2015 SEMA UPDATE
A Blacktop Book Review:
Featuring the scratchboard art of BOMONSTER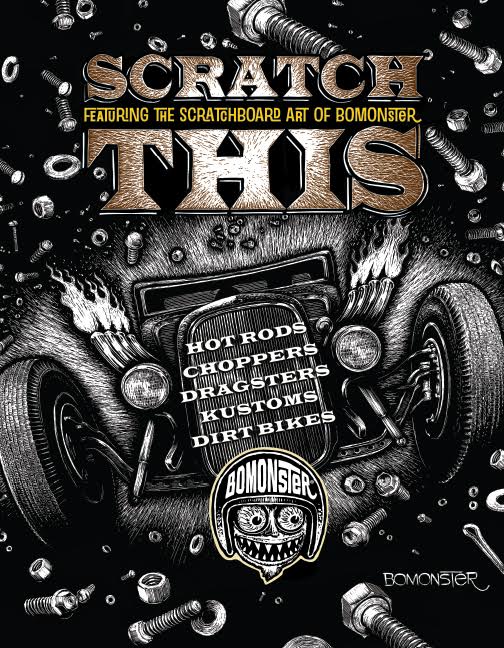 Self-published book that starts off with a bang! Visually and verbally as we open the cover to find a cool review of the cover image; "Bolts". This sets the tone to a personal visual dialog with a creative artist who pays homage to the men before him. Most importantly his father.
I expected the book to be like most artist tomes, as a chronological portfolio. Instead, the pages tell different stories from BOMONSTER's past, his friends and of course the incredible rides. The pieces are assembled like the loose hardware in your pockets. Dimes and washers, cotter pins and pennies, the commodity of the working man. Who knows what he will pull out next.
Ever since I first met BOMONSTER at a Mooneyes X-Mas party, his polite smile and gentle voice shared the passion he has in the industry and in art. He is quick to show his appreciation of his fellow artists and vendors who have helped him to present his work in a professional and effective manner. Mrs. BOMONSTER is always a pleasure to see at shows and events.
This book is similar to seeing him at a show. The work welcomes you with open arms to learn more of the subject, the process and the culture. Get this book! You can follow BOMONSTER on your favorite social media site or visit his website at BOMONSTER.com.