Installing Pulstar Plasma-Core Spark Plugs on a 2004 Harley-Davidson Road King Custom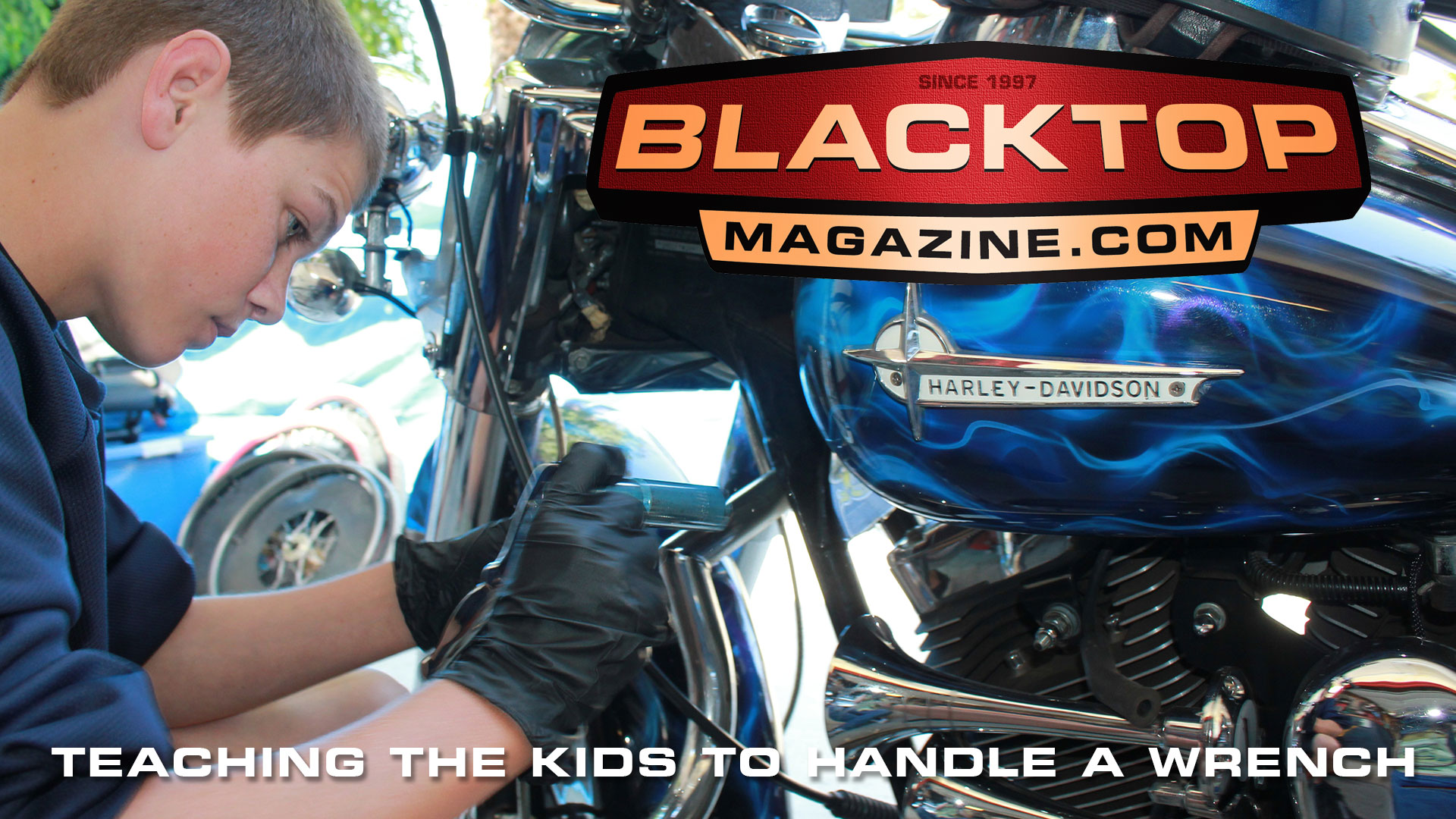 Photos/Story: Tony Colombini
Sometimes a story may take on a life of it's own. This simple project in the garage started out as a quick installation tech article, then became an opportunity to share some time with my nephew.
We just finished an early Easter dinner, and I thought, hey, let's get Marcus in the garage and do some simple projects. Marcus is our 15 year old nephew. Recently I learned that his school, like many others across the country have tore out their shop classes for computer labs.
I understand that computer technology is the future, but there will always be a need for getting dirty turning wrenches. Fixing things yourself or building things from scratch. It wasn't that long ago when he didn't even know: "Righty-tighty, lefty-loosey". Gadzooks! So anytime he comes over we try to have a project ready.
We slipped the kid into a pair of Adenna's Dark Light nitrile gloves and got busy.
This opportunity allowed us to share a back story with Marcus. We first saw Pulstar spark plugs at the 2013 SEMA Show. New on the market and new technology founder Lou Camilli proudly shared his new design for an item that hasn't changed in nearly 100 years. His spark plugs integrate a plasma-producing patented capacitor in each plug. So it isn't a "spark" plug, but a "pulse" plug. The capacitor has revolutionized spark plug technology by using stored energy for spark creation. The Pulstar with PlasmaCore plugs release the stored energy from the capacitor in a powerful pulse. Harnessing the power of plasma to produce more than 5,000,000 watts of peak power!
I showed Marcus different spark plug designs over the years. The plugs we pulled out of the heads have the same proven design of an J shaped electrode for nearly 100 years. E3 came out with a new design with a "DiamondFIRE" electrode about 10 years ago which features a diamond shaped opening on an electrode with three legs. The diamond edges create a multi-edged combustion spark over the single-edged combustion spark of a conventional J-shaped electrode. The pitch is, that the bigger the spark, the more efficient the fuel will burn, the faster it will burn and a more powerful expansion of the combustion chamber. More horsepower.
I wanted to show Marcus how quickly we can get the information we need when working on a project. I reach for the Clymer Harley maintenance manual and turn to the gap specs of 0.038″ – 0.043″ this pig. I hand him the spark plug gap tool and we mark it in the middle of the range at 0.040″. I thought it would be interesting to see how the gap measures on the old plugs we just removed. The rear plug was gapped a bit wide at 0.045″ and the front plug was gapped closer at 0.039″. We gapped the Pulstar's at 0.040″ and installed them firmly in the heads. Normally, we'd change the plug wires, however they appeared in great condition so we will run it like this. Heatshield Products make a great boot cover to keep the heat of the cylinders off the plug and wire. We will be using them on the Ford 390 we have stuffed in the front of our '56 Fairlane Club Sedan street rod.
Marcus was diggin' the way we have our tools organized. When it was just me in the garage, I knew where everything was. Billy has been working quite a bit on his own projects as well as with me in the garage, so we try to keep everything in it's place if you know what I mean. Marcus liked some of the specialty tools we have like, the Tite-Reach socket extenders and the Grip-Tite sockets and wrenches. He immediately saw how helpful each tool is. If you are having a hard time getting to a nut, the Tite-Reach socket extenders helps get in those tough to get to places. The Grip-Tite sockets are made with steel cams in the head to grip onto stripped and even rounded bolt heads and nuts. Both tools we have seen demo'd at the recent SEMA Show.
Now we are off to install an Optima Red Top battery in the Fairlane…
This was a great day. Our belly's full of a good Easter dinner, some time in the garage, and sparking the imagination of a young child's mind. I ask each and everyone of you, at any chance you get, bring a kid into your garage and show them something simple and watch them grow.
ADDENDUM 4/11/16 Two weeks after installation:
I was rode the bike into the Blacktop HQ a couple of days after the installation of the Pulstar Plugs. I noticed that the pipes were not running as hot as they have been. First a brief history. About a month ago we removed the chrome heat shields on the Sampson true dual head pipes, and wrapped the pipes with HeatShield Products Cobra Skin exhaust wrap. One thing I noticed about that installation, is the heat, especially under my left thigh, where the rear cylinder header twists and turns. Something I was going to talk to Steve at HeatShield about. But after installing the Pulstar plugs, I noticed the pipe not as hot. It was a similar day before and after, and the same ride about 7 miles on sidestreets with morning SoCal traffic and hitting almost every traffic light.
So I contacted Enerpulse, makers of Pulstar to ask: "Is it possible to have a cooler exhaust temperature with their "pulse plugs"? 
Stephen Marino, Senior Program Manager at Enerpulse, contacted me today and replied with this note: "We've seen this phenomenon before.  Improved engine efficiency, by definition, means converting more of the potential energy in the fuel into kinetic energy rather than heat.  It's not uncommon to see lower EGTs, and engine coolant temperatures with our plugs."
Here's another note that may attribute to the cooler exhaust temp. We also changed out all the fluids with AMSOIL products. I noticed a quieter running drivetrain, and now added heat reduction… I say great choices all around on my old pig. OK, maybe not that old, but plenty of miles on it: 62,000+.