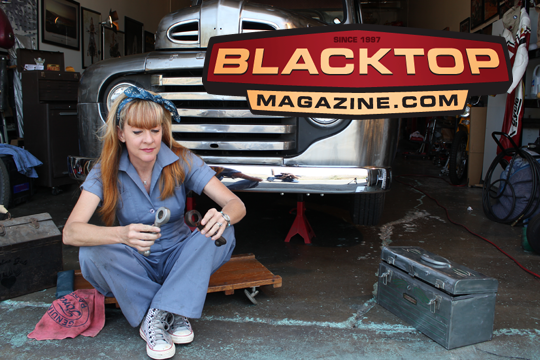 Story/Photos: T-Bone
Rare Parts is at it again. This time, with parts for your 1948-52 Ford F-series trucks. Have you ever noticed some sloppy steering? Chances are your pitman arm is getting a bit worn. Now you have a choice in your restoration project. Rare Parts' stash of NOS Pitman Arms is dwindling and they have recently began manufacturing new parts. We brought the two to Lori from The Gasoline Girls Car Club in Southern California to take a look-see.
Lori "Dr. Destroyer" Bentley-Law has been restoring her 1948 Ford F1 "Bondorella" with her club-mates. She sanded down the entire truck and removed pounds of bondo, thus, the name Bondorella. Down to the bare metal, Lori and crew decided to spray it with clear and a bit of green and gold ice pearl metal-flake to sparkle in the sun. She runs the original flat head with a pair of Strombergs.
The pitman arms are practically identical. The new product appears to be more precisely machined. The flat surface around the splines are smooth whereas the NOS part appears to have an "as-cast" finish. The NOS part is offered at a slightly higher price due to it's originality.
You can rely on Rare Parts for your restoration or performance steering and suspension products. From NOS to newly made and now with their new Waterjet machine, they can offer specialty one-off or limited run parts. Contact Rare Parts at their website to find a dealer near you. www.RareParts.com.