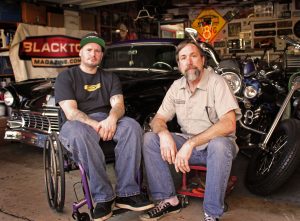 BlacktopMagazine.com is a Hot Rod, Motorcycle and Kustom Kulture enthusiast publication. Founded in 1997 by Tony Colombini it started out as Car-Shows.com. A year later he built Bike-Shows.com and in 2007 Colombini merged the two to Blacktop Magazine, and brought on his son Billy for help.
---
Publisher: Tony Colombini
Content Editor: Billy
Shop Dawg: Hot Rod Hilda
Motorsports Contributor: Cage Johnson
Contributor: Marcus Jacobson – Teen Perspective
Truck Editor: John Oro
Spokesperson: Kristy Moats
International Correspondents: Tom/Kim VanAllen, Tommy Sperandeo, and Peter Ström
---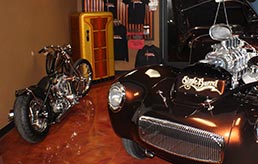 Blacktop Magazine is produced by The Blacktop Media Network in the studios of Blacktop Branding a high-performance motorsports design and marketing firm. Blacktop Branding builds brands in the automotive and motorcycle aftermarket. Tony Colombini brings his marketing and art direction experience from companies such as Classic Industries and Egge Machine and Speed Shop to work for your motorsports or kustom kulture company. Visit their site at www.BlacktopMedia.net.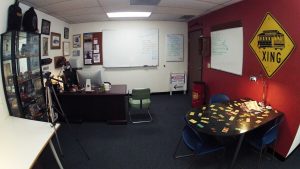 The Blacktop Media Network shares it's creative space with the famed Cambra Speed Shop in Orange, CA. The speed shop occupies about 10,000 sq ft of fabrication, prep, and finishing shops with a dozen craftsmen, engineers, and mechanics. 726 W. Angus Ave. Suite F, Orange, CA 92868
---
---
Reader Comments
"Blacktop Magazine is an edgy, retro style hot rodding publication that is very interesting to read. It is sent out free over the internet and you can join by sending T-Bone an email at tbone@blacktopmagazine.com. All of the articles are interesting and written by a real hot rodder of the modern day." -Editor, Richard Parks – SOCIETY OF LAND SPEED RACING HISTORIANS NEWSLETTER
---
"Just letting you know that Blacktop Magazine is one of my favorite e-zine slash blogs out there. It's great to read stuff written by someone who is actually in the business and knows what they are talking about. I do however tend to spend way too much time on the site, I work in front of the computer all day. –I work at a US poker sites guide. This is not something that my boss complains about though, as he is also a big car guy! At any rate, thanks for an awesome mag!" -Michelle