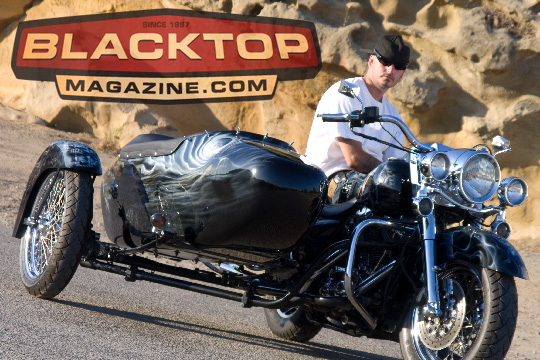 Billy Colombini – Editorial Director
Some of you know Billy, but don't quite know his story. I've told some of you about his challenges before, but I don't think, I've added all the details. So here you go.
20 years ago at age 18 Billy was a passenger in a truck that overturned on a back-road in Upstate NY. For over three hours he laid in the ditch in the dark waiting for help. As he waited, like anyone of us, he tried desperately to get himself up and out of the ditch. He realized then that things weren't quite right. It was a tough phone call to get here in Southern California, in the middle of the night that your boy is in the hospital with a spinal cord injury.
His injury is an L1 and of course the doctors all said he would never walk again let alone ride his Harley. With the utmost determination and over a year of therapy, he showed the doctors that indeed he could walk (with the help of forearm crutches). Fortunately he was able to retain the muscle on the top of his thighs and with braces on his ankles and knees, he is able to throw his feet forward to walk and bring his feet up to shift and brake his '82 FLH with a Champion Sidecar.
This wasn't the first challenge which Billy had to overcome. When he was 8 years, he was sitting on an open tailgate while driving on a country road and the tailgate dropped and he suffered a head injury, which resulted in a learning disability, causing difficulties in reading and writing.
Just three years ago, Billy was tested again when he contracted a multi-strain resistant staph infection, which after four surgeries and loss of bone tissue, he was told that this sort of infection had a high death rate and that he would have to be strong to overcome it. Well, he showed the strength needed and after a couple of years of weakened immune system, lots of pain, and fragile health, he came through more energized than ever.
Stepping back a bit, in 2004 Billy got his new Harley Road King with HD Sidecar, since, he has logged over 50,000 miles. We use his bike as a test bike for our web publication we work on together called BlacktopMagazine.com. It covers hot rods, Harleys and Kustom Kulture, which we are passionate about here in Southern California. Recently we tested a cool shifter from Widow Maker Industries. That's what the pic we posted on your Facebook page is from. His bike is fully customized with a built-up motor (he won't say how much, but I'm guessing well over 103ci) with S&S Hi Compression Heads, a Baker 6 speed, Barnett Scorpion Clutch, Sampson tru-dual exhaust, Danny Gray seat, Custom shift linkage, and foot pegs. Our buddy Bret painted his rig matching some of his haunted cowboy scene tattoos.
More good news; we were goofing around in the garage the other day and Billy decided to try and ride the little Baja Desert Runner we have. He got on it, rolled the throttle and down the road he went. Around the block his grin was ear-to-ear yelling: "It's the first time I rode 2 wheels in 20 years!" Since then he has been on his mom's pink scooter, and even took my beach cruiser out for a ride. Such determination. We couldn't be any prouder. To think that with a tragedy such as he had, to overcome so much and to be an inspiration to us all that we most likely would never have dreamed.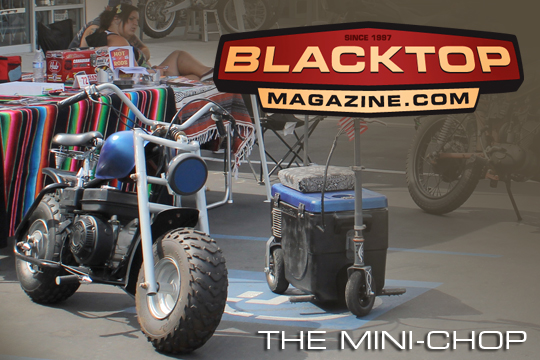 Check out the Video of Billy and T-Bone riding the "Mini-Chop" waking up the neighborhood.
Where there's a will there's a way, never say die, keep on…keepin' on. Those words roll through his head all the time as he rolls on the throttle and the miles build up beneath the rubber.
Thank you for listening, proud pops, Tony Colombini