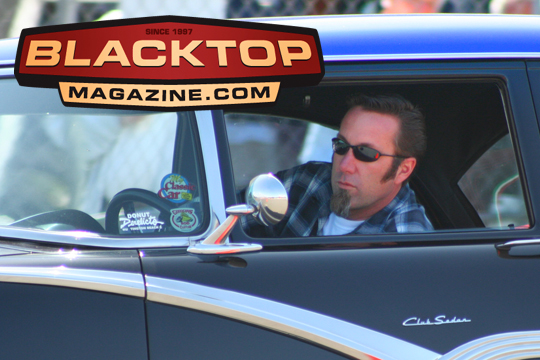 Tony T-Bone Colombini pushing his '56 Fairlane through the cones at a Good-guys Autocross.
Tony Colombini has gone by several names. His great Uncle Delmar called him "Smiley". He had a goofy grin and a positive outlook on life. In college in the late 80's "Spike" won the student body Presidency where he tested his marketing prowess with his slogans printed on suckers and condoms. And more recently his Mercifuls Custom Car Club buddies call him "T-Bone". A name he picked up while Art Director at the automotive restoration giant; Classic Industries.
Tony grew up in a construction family. His Grandfather and Father both owned construction companies. He gained his strong work ethic from these men. In the early 1980's Tony worked his way to be one of the youngest Kitchen Managers' running a 2.1 million dollar kitchen at the La Mesa Bobby McGee's. From there he was trained and took over as Chef at Picasso's Restaurant in Dana Point Harbor and then at Savories Restaurant in Laguna Beach. He studied Architecture, Oceanography, Psychology and found a BFA Degree in Visual Communications with a minor in Fine Art/Sculpture from the Laguna College of Art and Design as his calling. He is proud at getting his degree in 4 years while working full-time as a Scheduler and Marketing Coordinator at Birtcher, a leading Commercial Construction and Development firm as well as occasional freelance design jobs. Sure he missed out on some parties and fun with his friends, but the pride of sticking to his commitment lasts a lifetime.
After college, Tony started his design studio "Corner" and built a practice of marketing communications design. He embraced the overwhelming process of marketing design as a pleasurable experience for all his clients. For 12 years he shared his passion, teaching graphic design, typography, color theory and art history at area colleges including Chapman University. Tony took his teaching abilities to the boardroom. He founded the "Creative Thinking Workshop" where he developed specific programs for the marketing departments of companies such as Ingram Micro, Beckman Coulter, and Loma Linda University Medical Center. He was twice elected President of the Orange County chapter of the American Institute of Graphic Arts and has presented at several design industry conferences on subjects of branding, typography and creativity.
Today Tony is very passionate, creating value for the automotive/motorcycle aftermarket industry with proven marketing design tools. His clients appreciate his steps beyond the scope and breaking through the overwhelming challenge of new campaigns with Blacktop Branding. Tony's tools include his online publication BlacktopMagazine.com, his proprietary design process; "Intersection", and a natural ability to keep focus on important issues during the process.
As publisher here at Blacktop Magazine, T-bone writes many of the articles and takes most of the photographs. Feel free to contact him with article submissions and other requests. As Blacktop Magazine grew to a print publication, so did the business enterprise. Blacktop Magazine and Blacktop Branding have become part of The Blacktop Media Network which includes Blacktop TV providing video content, and the Shocker Choppers Garage where they perform product testing and custom builds.