It's Been An Incredible Year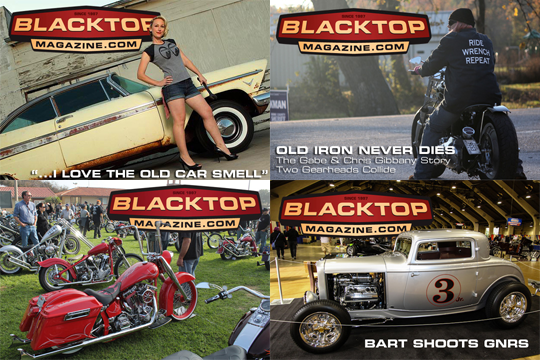 Story/Photos: T-Bone
We are truly blessed to have dedicated readers and fans like you. From 1997 till April of 2011, Blacktop Magazine was a hobby of sorts for me and my son Billy. What started as a National listing for car shows, we turned into a diary of sorts for our adventures in the automotive and motorcycle scene. In April 2011, with a new website, we have moved, ever-so-slowly from a hobby into a business. Offering advertisers an opportunity to share their relevant products and services with our ever-growing audience. A year later, May of 2012, we published our first Special Print Edition with top stories from the past year. On Christmas Eve, we launched our 6th issue called Trunkload. All of the magazines are "Print on Demand" with HP's MagCloud.com service. This means no huge overhead cost of printing/warehousing and distributing the magazines, but it also means a high cost per issue. Look for the next issues of Blacktop, The Magazine to be conventionally printed, larger and with an expanded distribution.
In August of this year we conceived our latest project: Blacktop's B.A.D. Bike Build benefiting the American Diabetes Association. Since then we have been working hard to spread the word, find sponsorships, and secure a donor bike. We are pleased to announce that an anonymous donor has offered a Harley-Davidson Shovelhead basket case for the project. But that's not all. He also is having the motor looked over to make sure it is in running condition and went through all the parts to be sure everything is there, and if it isn't he will give us a list with his suggestion on how much such parts should cost! Amazing! Be sure to stay tuned to follow the progress with inspiring articles and interviews with people who have overcome incredible challenges and continue to live their motorhead dreams. This is the beginning of a new chapter for us, as we move to present more articles that celebrate the charitable efforts of our hot rod and chopper brethren.
Speaking of article content, we reviewed our site metrics and the data from a recent survey and we have learned quite a bit about what you, the readers, are most interested in. Interesting information as we found that the readers of BlacktopMagazine.com tend to favor coverage of events, people and vehicles, where-as the viewers at BlacktopTV (our YouTube channel) to favor the installation, cruisin' and event videos. We featured 64 articles, three Special Print Edition magazines, produced 48 videos and exhibited at 15 events in 2013. We also secured a couple of significant partner relationships. Primer Podcast is sharing updates to the B.A.D. Bike Build, Chris "Stubby" Rasnick and the Mercifuls So Cal Car Club, Gary Morin at Rusty Relic Photography, Sherri Candland for the Futurliner updates at Kindig-it Designs, and West Coast Kustoms is our first distributor of Blacktop, The Magazine.
I would like to take this moment too, to thank our sponsors who have been so generous in their support, in no particular order: Bedwood and Parts, Surf City Garage, ACCEL, Con2R, Hellwig, Rare Parts Lucky 7 Enterprises, Eddie Motorsports, Airaid, The 401k Club Hot Rod Shop, Cyclepath Cycle, Grip-Tite, Tite-Reach, GT Performance Products, Edelbrock, Junk Yard Find, Signazon, Schapiro and Leventhal, So Cal Cycle Swap Meet, Custom Autosound, K&N Filters, AEM, Richard's Wheel and Chassis.
Thank you all for an amazing 2013, we look forward to even more to offer next year.
Best wishes to you and your family and friends from Tony T-Bone Colombini, Billy and Panzer ShopDog.