Such a classic. I have had the opportunity to meet Mike "Shiney" Grawunder on a couple of occasions. He is an expert metal polisher.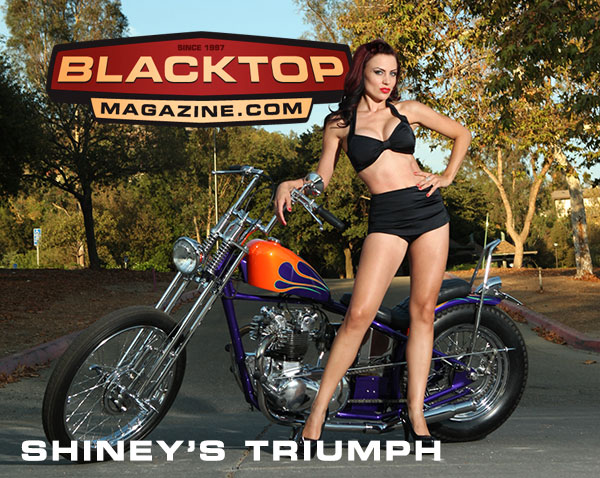 Photos: Mitzi Valenzuela, Models: Dinah DeRosa, Rio Lund. Story: Tony Colombini
His craft certainly shows through on this incredible time machine. The bike is a survivor. Mike and his buddies bought a garage full of Triumphs and parts 13 years ago from a gent who was closing his shop.
This bike was built up in the late 1970's as a chopper yet had to be completely torn apart. The idea was to keep as much of the original theme of the bike, but add some personal touches. Some of the threads were so jacked up the previous owner bondo'd them up. Week welds were rewelded.
When it came to the finishing touches Shiney opted to forego the stock front end for a ENC Springer which he shortened a bit to keep the nose down. The paint was a bit of a challenge to get the right purple. Three previous attempts came out too blue. Then the M&M Green pinstriping fell hard on critics saying they should be traditional blue lines. Personally I agree with Mike that the green works much better than the blue would have on the '99 Mustang purple base.
This scooter is a rider. Finished in a mere 4 months, Shiney rolls his rig througout Southern California including an annual 56 mile trip down to Biltwell in Temecula. He does admit though that his aging body sure feels the bumps in the road on this rigid.
All the right features for a classic chopper are here. Springer front end, check, flamed paint, check, bobbed rear fender, check, hot chicks, double check.