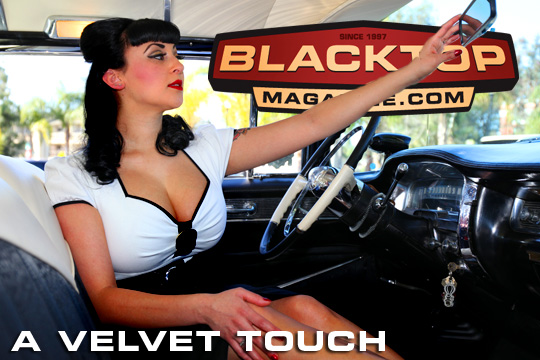 Photos of Model Veronica Velvet: Robert at Venerable, Other photos and story: T-Bone
Elephants on Parade
That's what I think of when I see the members of the Cadillac Kings come cruising into an event. Impressive classic steel and chrome usually rolling slow and low, all in line. The club has a relatively young history starting in the Inland Empire of Southern California in 2005 by Derrick Taylor from an online Cadillac forum. The concept grew throughout Southern California. The name was chosen from a secret ballot of a possible 48 names, held over two additional meetings.
A couple of years pass and the club grew to where it split with a Los Angeles and an Inland Empire chapter being formed. Soon after the Orange County, and San Diego chapters were formed. Today there are many chapters across the country.
There has been quite a bit of momentum in the Orange County Chapter. Recently I had a sit-down with OC Chapter President; English and PR Director Leo to learn more about the Orange County Chapter.
The chapter has 25 members and several prospects. Prospects endure a 5 month review before becoming a member. The chapter is focused on pre-1970 Cadillacs of every model, however there are members who have significant models of later designation. The members are fairly active in the community, attending a variety of events. They host a benefit show for the local Children's Hospital, which is a big hit. Like their marque, the show was very classy with nicely printed flyers, tickets and banners. For a parking lot show they were able to create quite a healthy contribution to the Children's Hospital of Orange County (CHOC).
Members of the club are gaining attention. Two of their members' vehicles were featured in National Magazines. Ron Short's '57 Coupe DeVille was featured in Old Skool Rodz and Al Escobedo's much sought after '49 was featured in Car Kulture Deluxe. Many of the members have received significant awards and trophies such as Leo Gonzalez' '54 selected as Best Classic from George Barris.
The club aspires to be recognized with their significant contributions to the community. Each member is expected to present themselves in a professional and respectful manner as the marque suggests. The members are helpful when showcasing their vehicles answering questions of the history of the vehicle and the brand. This designation is further enhanced at their monthly meetings where they offer Cadillac trivia with prizes awarded to those in the know. At one point the club was looking at getting official designation from Cadillac, which after receiving the corporate contract, they found it best to keep their independence. Like many clubs members help each other out in sourcing the rare parts in the restoration of their vehicles.
As the club grows, the leadership is focused on offering activities to support the various needs and desires of its members. Some members appreciate the community and charitable aspects of the club while others are appreciative of the camaraderie of the fellowship and happy just to cruise throughout Southern California. For such a vast membership, the leadership is tasked with developing new ideas and accountability for each member who volunteers to steer a program.
I started this dialog with the term Elephants on Parade, not only as a metaphor of these majestic beasts rolling slowly together, but also as a brotherhood of sorts. Elephants are recognized for their sense of community, helping each other and warning of any dangers. This group certainly looks after each other and considers each member as family. A family you are certainly invited to join. They invite you to visit www.CadillacKingsofOrangeCounty.com for more information.