Blacktop Magazine's Subscriber Contest
Here's a really simple contest event for subscribers to our monthly eNewsletter.

On Thursday August 31st at 4:00pm PDT will will host a Facebook Live event to choose the winner of this contest.
HOW TO ENTER:
Click the red SUBSCRIBE button on our site (top right on a computer, scroll down on a mobile device). Be sure to add your first and last name and your valid email address. It's that easy! Winners must have their first and last names in our database to win.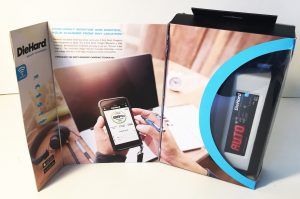 WINNING PRIZE:
The prize is a
DieHard Smart Charger
. Click the link to learn more about this awesome prize. It is a 3A 6v/12v charge with auto voltage detection, float mode monitoring for maintaining optimum charge, reverse hook-up protection, and a handy hook to hang on hood or deck lid. The Smart Charger is also WIFI enabled with a smart phone app to control the charger from any location on your phone!
Determination of Winner:
At 4pm on Thursday August 31st Pacific Daylight Time we will go to our Facebook page, and start a live stream video. In the video we will ask viewers for a number ranging from 1-(however many subscribers we have at the time). We will take the first 10 numbers and write each one on a small piece of paper to draw from a hat. The number will coincide with the number associated with the email address in our subscriber database. That winner will be notified by email and have 10 days to send us their mailing address to send the prize to.
Shipment of the Prize:
The winner will be notified by live video announcement on our Facebook page at 4pm PDT on Thursday August 31st. The winner has 10 days to contact us with mailing address to ship their prize. We will ship the item anywhere in the continental U.S. for free. Outside this area the winner may be required to pay for shipping.
Agreement:
By entering this contest you are granting publishing rights to the content you provide in the contest. You are allowing Blacktop Magazine and the Blacktop Media Network to publish either digitally or in print any media or content you provide in the contest. Blacktop Media Network agrees to publish a credit line attached with the use of your content unless you object in writing (via email, text, postal or otherwise). We will grant every request of privacy.
---
Promotional Consideration Announcement:
DieHard sent us the Smart Charger for our prize table at the National Collector Car Appreciation Day Hot Rod BBQ at Cambra Speed Shop. The device showed up a day late so we are giving it away to the winner of this contest. There was no other promotional agreement or compensation for this contest.
---