We are focused on providing our readers with informative entertaining articles on product installation, testing and services for the following vehicle. If you are a manufacturer or service provider and would like us to create inventive content for your marketing, please contact us at: Projects@BlacktopMagazine.com
T-Bone's '04 Harley-Davidson Road King Custom – "Down Payment Blues"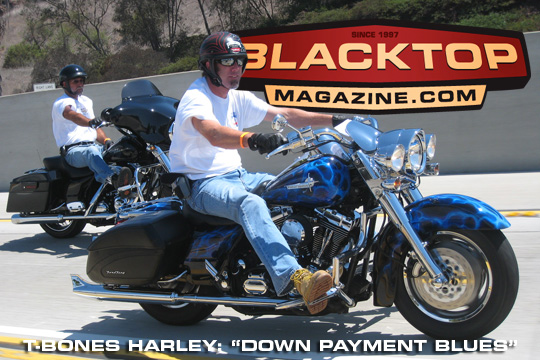 This bike is a rider, at nearly 65,000 miles. Fuel Injected twin-cam 88cid, 5 speed. 5:10 S&S Cam Gears, Superchips Vigilante Flash, Stage I kit with K&N air cleaner, K&N Oil Filter, Amsoil Oil and Lubricants, Samson True Dual Exhaust wrapped with Heatshield Products' Cobra Skin, Kerker Fishtail mufflers and torque cones, Kleinn Air Horns, Panavise handlebar cell phone holder, Pulstar spark plugs, Custom Black with blue fire paint, Rick Doss side-lamp and rear turn signal bars, Lindy Lindbar, Custom Sidelamps, Widowmaker Industries' Jockey Shifter, Stock style Chubby Bars, Hooded lamp bezels, lay-down rear taillamp lens/license plate.
THANK YOU:
Cyclepath Cycle • Wheel-Works • Mesa Cycle • BD Custom Graphics
PLANS FOR VEHICLE:
Performance adders and supercharger, wheels and more.
AWARDS AND ACHIEVEMENTS:
Best of Show – Curleys Bike Night 2005
2nd Place – 4th Annual Hot Rods and Harleys Fund Raiser 2005
Best Bike – Starting Gate Bike Night 2006
Drive-up Scene in the 5th Season of Chop Cut Rebuild 2007
Vyrus Music Video Shoot 2009
3rd Place, Slow Ride – Rip's B.A.D. Ride 2010
Best Chrome – Friday Night Cruise 2010