1956 Ford Fairlane, Club Sedan, Businessmans Edition – "Riff Raff"
We purchased the car from Family Classic Cars in San Juan Capistrano in 2004. The owner consigned the car and worked there. Mike Canipe, local hot rod builder and guitarist for John Fogerty's live shows. He claimed to bring his daughter home from the hospital in the car. I told him I wasn't interested in a show car but a go car, and he said let's take it for a spin. The 390 under the hood felt comfortable reminding me of my '67 Galaxie convertible I owned in the 80's. We were cruisin' north on the 5 when he said slap it down a gear and hit the gas! So I slapped the B&M Quicksilver shifter down a gear and the C6 was quite responsive as I mashed on the pedal. Billy got sent back a bit riding in the raised rear floor of the Businessman's Edition. After a year of looking for just the right car, I kept coming back to check on the '56. Finally one day in early 2004 I gave him my price take it or leave it. We made the deal and I drove that baby home.
A year or so after driving the car putting on around 20K miles, the cam failed. A flattened lobe bent a push rod and messed it up a bit. We took it to Jerry's Performance Engine just down the street in Garden Grove and he rebuilt the '68 Ford 390 FE all the while cussing at the Ford engineers. We installed a Chet Herbert mild cam and adjusted the valve springs. New water pump, oil pump and we were rolling again.
As well as putting on tons of miles and several sets of rubber, we have been adding different things to the car. In this season of Project RIFF-RAFF, we are constantly changing it up. We just finished rewiring the entire car with a Ron Francis Express Kit, installed a new Flaming River 170 amp alternator, an ididit chrome/tilt steering column and topping it off with a jewel of a custom steering wheel from CON2R.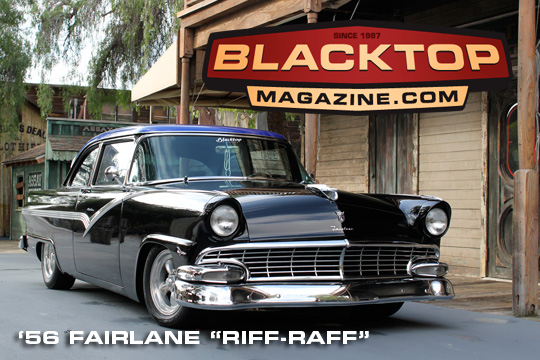 ENGINE: 390cid Ford with GT Heads, Chet Herbert Cam, Edelbrock Performer 390 Intake, Edelbrock Street Performer 1406 Series Carburetor, Edelbrock Finned Classic Valve Covers, Edelbrock Classic SeriesAir Cleaner, MSD Pro-Billet Distributor, MSD Blaster 2 Coil, MSD Digital 6AL Control Module, MSD 8.5mm Super Conductor Spark Plug Wires, E3 Spark Plugs, Heatshield Products Spark Plug Boots, Flowmaster 2.25″ Stainless Steel U-Fit-It Kit with Dual Super 40 Series mufflers, Doug's Headers electronic cut-outs, Ron Francis Express Wiring Kit, Optima Battery
TRANSMISSION: C6 Automatic Transmission, B&M Quicksilver shifter, Ford 9″ with 4:11 gears, Eddie Motorsports Billet Shift Boot and Bezel.
BRAKES/SUSPENSION: Dual Diaphragm power brake, Mustang II front spindles with disc brakes, stock rear drums. Jamco Parts' cut coil spring front suspension, blocked rear suspension with anti-sway bar, American Racing Torq Thrust II's, Goodyear Rubber
INTERIOR: Black tweed and leather interior, black carpeting, Clayton Machine Works Door Handles and Window Cranks, ididit chrome Tilt Steering Column, Custom CON2R Steering Wheel, Custom Autosound 740 bluetooth capable radio.
PAINT AND BODY: Shaved vent windows, PPG Black with custom painted roof with PPG Ditzler Metalflake and candy blue with black lace panels and infinity lines. Painted by Hitoshi at Cambra SpeedShop.
Project Riff-Raff Articles
---
THANK YOU:
Edelbrock • GT Performance • MSD Ignition • E3 Spark Plugs • Heatshield Products • Optima • Clayton Machine Works • ididit • Flowmaster • Doug's Headers • Eddie Motorsports • Ron Francis Wiring • CON2R • Custom Autosound • PPG Automotive Paint • Cambra Speed Shop
PLANS FOR VEHICLE:
Upgraded interior, pinstriping and graphics, trunk upholstery, Pro-touring suspension, power adders, mild body mods.
AWARDS AND ACHIEVEMENTS:
"Cool Cruiser" – Good-Guys Del Mar Nationals 2004
"Best '50s Street Rod" – All Ford Meet 2004
Best Paint – Historic Main Street Garden Grove Cruise 2004
Best Ford – 5th Annual Hot Rod and Harley Fund Raiser 2006
Drive-up Scene in the 4th Season of Chop Cut Rebuild with Dan Woods on SPEED 2006
Good Guys OC Get-Together 2, Street Challenge Autocross 7 runs starting with a 22.85 and finishing with a 20.75 second time. 2008
Best Ford – Buena Park Elks Lodge Gary's Classic Car Fridays 2012
Best of Show – Angelos Car Show 2012
Street Machine and Musclecar Nationals Autocross March 23, 2014 – 5 Runs with a best time of 41.695 sec.
Burn-Out Contest, Honorable Mention Top '50s Car.
Irwindale Dragstrip 1/8mile drags :10.26 at 72mph – April 14, 2017
ARTICLES and VIDEO LINKS
Street Machine and Musclecar Nationals Autocross • Click here for VIDEO on Blacktop TV
GT Performance Steering Wheel Installation (Article) • Click here for VIDEO on BlacktopTV
Installing an Edelbrock Carburetor (Article) • Click here for VIDEO on BlacktopTV
Edelbrock Classic Series Engine Dress-up Kit (Article) • Click here for VIDEO on BlacktopTV

Riff Raff Rumbles – Custom Exhaust Installation (Article) • Click here for VIDEO on BlacktopTV
We are focused on providing our readers with informative entertaining articles on product installation, testing and services for the following vehicle. If you are a manufacturer or service provider and would like us to create inventive content for your marketing, please contact us at: Projects@BlacktopMagazine.com