A slow start, with plenty to do.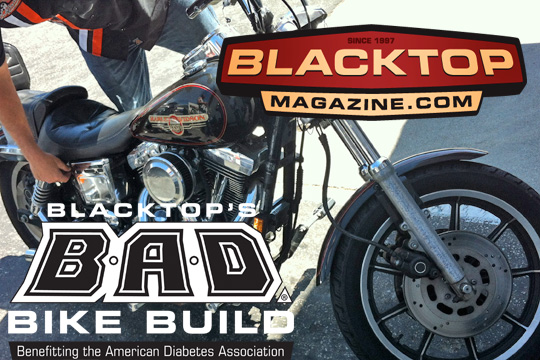 Photos/Story: T-Bone
We have been working on the project quite a bit. Just not in the gettin' dirty playing with wrenches and grinders kind of way. We are looking for great stories to share about how people have overcome diabetes, about people who continue to inspire us to live our dreams as they deal with physical and/or mental challenges and continue to thrive. Share us your story. It is most likely more inspiring than you may think.
We have been busy looking at prospective bikes for the project. There was a really nice Sporty at Lifestyle Cycles and a bitchen '95 Dyna Lowrider at California Harley-Davidson. Many of the Harley dealers have been busy at the Motor Company's 110'th Anniversary party in Milwaukee. In the mean-time we have been visiting other potential sponsors and working on the website adding some other ways to contribute to the project. We have added some t-shirts to the online store and are proud to show several shirts have been ordered and a couple of generous individuals have contributed with our "donate" button. Thank you to early supporters; Holly Garrett and Michael Derego.
We have printed some postcard flyers to share the project with people. It answers the questions on how you can get involved.
This week Blacktop Magazine will be sponsoring the popular Starting Gate Bike Night. We have enlisted our friends Jack Petitt and Chris "Stubby" Rasnick for the trophy. There will be pinup models to shoot with the bikes and the Mercifuls Car Club will be bringing out some of their awesome customs.
So what's next on the build? Getting a bike is the main thing. We are hoping to get a donor bike in exchange for some great publicity through our sponsor program. The more we get in sponsorships the more we can give to the American Diabetes Association. And that is what it is really about. Being able to make a significant contribution to The American Diabetes Association.
Thank you for your support. Please share.