Cone-Shovel Rolling Chassis Donor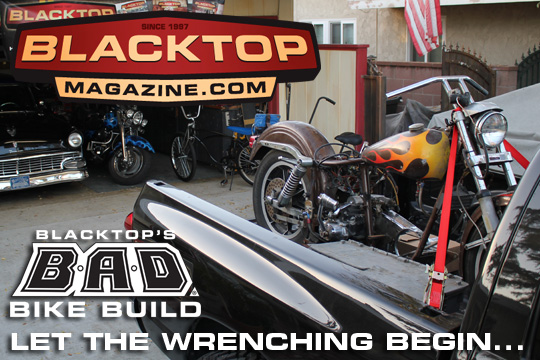 Photo/Story T-Bone
The B.A.D. Bike Build get's underway with an anonymous donor basketcase Shovelhead. What was at first described as a '70's Superglide is slowly being discovered to be a Low Rider. More mysteries to be solved in the next couple of days. Not entirely sure of the year yet. We will be getting the Pink Slip when we pick up the freshly rebuilt motor which will help us to decipher all the details. As you can see, we used our new Quickloader retractable tie-down straps to hold this jewel in place.
Check out the video or T-Bone and Billy talking about the donor bike and the project on BlacktopTV.
According to the blue license plate and current registration, the bike has been non-op since 1998. It appears to be a well run bike plenty of rock chips and scratches in the custom brown metallic painted frame and tins featuring old-school flames. Initial missing items include dash, controls, seat, battery, etc. The primary chain and drive train are in a box and look to be in good condition. Another box is full of extra parts including a couple of dash's, chain guard and chrome oil tank.
So what's next? We plan to put the bike together as much as possible as is, then determine what we want to do with the bike. Our first thought is to swap out the front end with a wide springer style to accept an equal size 16″ x 180 wheel. The design palette is being determined and looking to paint the frame a metallic orange and the tins gloss black with a dark blue pearl and yellow to red B.A.D. Bike Build graphics.
Be a part of something really, really B.A.D. (Bikers Against Diabetes) www.BADBikeBuild.com
We'd like to hear what you think. Drop us a line: T-Bone, Billy