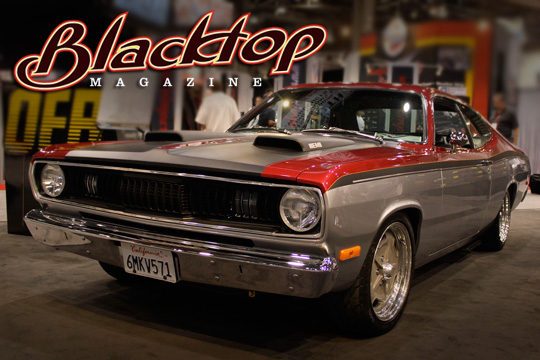 While at SEMA we happened upon the Classic Industries booth. OK, that's not entirely true. It's not like: "Oh, wow, look what I found! Classic Industries." With one of the largest spots right next to the GM center stage, it isn't hard to miss Classic Industries. A beautifully themed 1972 Duster was a beacon to the booth. (Not to say Reggie Jackson's pristine '57 Chevy restoration wasn't a draw too)
But this isn't your regular classically restored '72 Duster. The project build was featured on Speed Channels hit show; Chop Cut Rebuild and features all the best the automotive aftermarket can provide. Let's start with the power.
The pony car is powered by a Mopar Performance Hemi Gen III 426 Crate and kept cool with a Bouchillon Performance radiator. Power is shifted with MasterShift dash-mounted shifter and features an EZ-TCU controller on a TCI 6X 6-speed Transmission to spin a Moser, drag-ready 4:11 rear end. The engine is managed with a FAST XIM/XFI system and barks through TTI Performance headers with Quicktime Performance cutouts to Dr. Gas Side Exit Exhaust.
This whirlwind Duster takes the turns and twisties with ease and help from Reilly MotorSports suspension. American Racing Salt Flat Specials wrapped with B.F. Goodrich rubber lays down the pavement graffiti. Stopping is provided through Classic Tube lines to Wilwood calipers.
Inside, the Legendary Auto Interior is kept cool with a Vintage Air system. If listening to the tune of a big-block hemi isn't your thing, you can wrap your digits around a RetroSound audio system, all the while keeping track of what's happening under the hood with Dakota Digital gauges.
The outside, wrapped with OER Sheetmetal, and weatherstripping features the Classic Industries standard PPG Burgundy/Silver paint scheme by Ross Harms, however this special project features a dark grey belt-line and pinstriping by Curly's Pinstriping. Curly even silver leafed the valve covers!.
Another special feature on this car is that it launches Classic Industries NEW Mopar line of restoration parts. Whether it's a Charger, or a Challenger, Barracuda or Belvedere, Fury or Polara, Dart or Daytona, Road Runner or Satellite, Classic Industries has the parts you need for your 1960-76 Mopar A-Body, B-Body or E-Body. Call 800-854-1280 or visit www.ClassicIndustries.com to shop or order your catalog today.