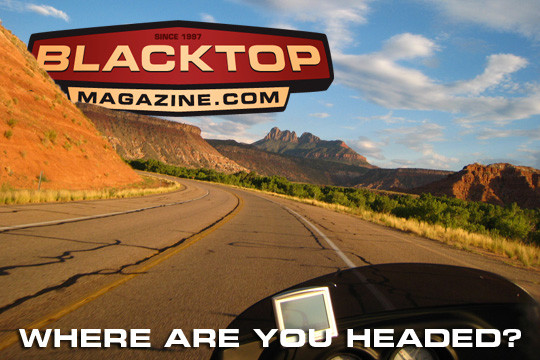 Photos: Anna/Potter, Story: T-Bone
Living in Southern California I feel a bit isolated from the rest of our great country. Many of you have been under an arctic vortex with sub-zero temperatures and storm after storm after storm. I hope you were able to go out in the garage and work on your project and get it ready for a ride soon.
You deserve it the most.
 Where do you plan to ride?
My mind gets lost in the long stretches of highway. My body sways with the twisties in the mountain passes. Who wouldn't enjoy the slow rolling curves along the coast? When planning a road trip, I dream about the places I have never been before. I try to work in a side trip to visit a relative or friend. One year, Billy and I took a trip up to Hot August Nights in Reno. We rolled up highway 395 and stayed at my Aunt and Uncle's ranch in Smith Valley Nevada. We took our time on our way back and hit Bodie Ghost Town, Mono Lake, Yosemite National Park, and then across the state to Hollister and Monterey.
When Billy was living in NY, I took the train out there in the Fall of 1994 and we drove his old Dodge van towing his 84 FLH out to California for the winter. We hit Monticello, Smokey Mountains, Graceland, Cadillac Ranch, and the Grand Canyon before we made it home in time for Halloween. Great memories. I planned that trip for weeks. Not much of an internet back then. It was trips to AAA and the library.
 I dig maps.
I love looking at maps and picturing where those red, green and blue lines would take me. What I would see along the way. At a recent motorcycle event, I saw a booth for Butler Motorcycle Maps. BEAUTIFUL! The maps are printed on synthetic paper that won't tear or get damaged by water. They are richly detailed and feature roads just right for a two-wheeled adventure. With your smart phone they have interactive features at just a click of the button. Where to stay, what to eat, and how to enjoy your trip. Easy peasy. I picked up the California pair of maps to check out some routes for our next trip. Now I can plan my trip with expertly suggested roads for simple day rides or long-haul trips. They even have routes for the more adventurous in dual-sport roads.
 What will you be driving/riding on your next road trip?
 Note: Butler Motorcycle Maps, has sent us their Master Collection of maps to go along with the B.A.D. Bike Build. If you are the winning bidder for the project you will receive a handsome map case with the entire collection of maps including; Alaska, Montana, Colorado, Northern California, Southern California, Ozarks, Utah, Idaho, Wyoming, Texas Hill Country and the Rocky Mountain Planner.
)