A 2015 SEMA UPDATE
New "Retrofit" Gauges by Con2R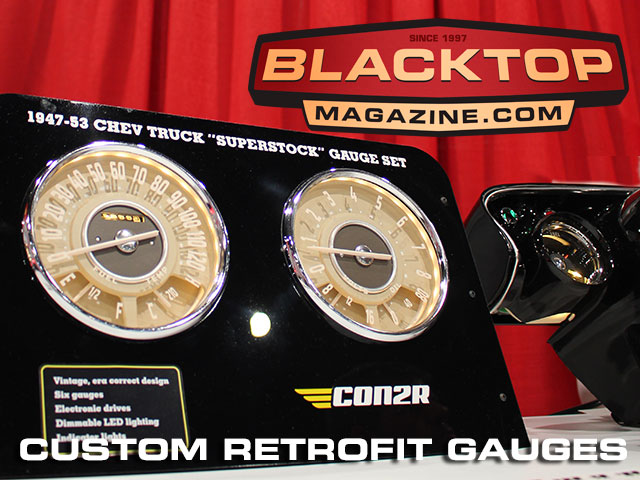 So often we look inside an awesome custom or hot rod and see the same digital gauges with a black face and no design, or, it's a cookie cutter gauge design that "looks retro". At the recent SEMA Show we found a fresh new look with Con2R's custom instrumentation.
We spoke with Bob and the boys at Con2R about the "Retrofit" gauges displayed.
"When we went looking for instrumentation that was appropriate for our 1964 Ford 'PH100' project, all we could find were the same old 'needles in a pre-sized can.'" Said Bob.
So as is the case with everything they do at CON2R, combining their creative and technical capabilities to develop their own instrumentation – complete from the working components to the one-off raised lettering and dimensional faces to the domed glass and backlighting – that fits aesthetically and functionally. Using the original panel and gauges as their guide, they create a complete set of instrumentation that appears to have come direct from the factory when the vehicle was built.
If you don't like what you see in the catalogs and want to do more with your gauges, give Con2R a call. They enjoy the opportunity to put their talented crew to work for you to create instrumentation that is yours and yours alone.  Check out some of the other instrumentation they have built in their Instrumentation Gallery.