A 2013 SEMA Show Find: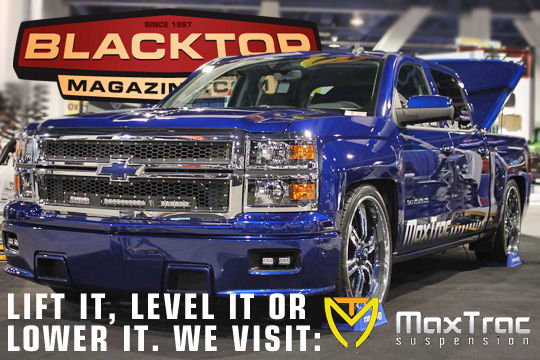 Photos/Story: T-Bone and Billy (photo of the Silverado: from MaxTrac)
Our ride to the SEMA Show in Billy's Blacktop Baller was smooth going. Friday before the show we installed a set of Helo HE879's and some Nitto Trail Grapplers from The 401k Club Hot Rod Shop. We are running stock suspension and my research on tire size failed just slightly. We are getting a bit of rub on the rear of the front inner fender well when we make a sharp turn. Sounds like we either need a leveling kit to bring the front up a couple of inches, level with the rear or install new suspension and raise the truck up a bit.
At the SEMA Show we met Sean Romo of MaxTrac. He suggested a leveling kit to fix the problem and since we are only a couple of miles away, to stop by so he could take a look when we get back home.
MaxTrac was founded a little over three years ago with S-10 Lowering, Leveling and Lifting kits. They have since moved into the full size light duty truck realm. Their new item they introduced at SEMA is a 4.5" lift spindles for 2002-'13 RAM 1500 2WD. They are now expanding and moving to a facility twice the size of their original building only a few blocks away in Anaheim, CA. We met with a very busy "Romo" who introduced us to Mike the President who took us on a tour of their facility.
The company is staffed with young off-road and street truck enthusiasts. Out front was another Sean and a young lady came running up with some paperwork. We met JJ, an engineering wizard who digs rolling around with the boulders in the desert. He is buttoning up a Frankenstein of a truck. Started as a Toyota mini-truck with a Blazer engine and chassis. He is adding a second row of seats (outside the cab) and an exo-skeletal roll-cage. Looks like it's going to be pretty cool to hit the dunes or tumble over some rocks. Their welder was busy building leveling kits with another guy in the back completely focused on the wire wheel. He wasn't phased at all with the flashes of my camera going off. It appears that Mike has a dedicated and faithful staff.
Out front was their 2014 Silverado slammed down with a 4/6" lowering kit. We saw the truck at the SEMA Show and recently in Street Trucks magazine. The kit includes 2" front drop spindles and springs, a 6" rear flip kit with a pair of twin tube gas shocks and all the hardware. Check out their website for more applications. www.MaxTracSuspension.com
MaxTrac uses local companies when possible to help with stamping, polishing, and coating. They have partnerships with other main brands too. For example, lift kits can be upgraded with Bilstein shocks. They build all the leveling kits in house and lifting and lowering kits are also assembled in-house.
Back out at our truck and Mike confirmed what Romo had suggested. Keep the truck essentially at the same height, with a leveling kit up front, OR add the 4.5" spindle up front and a couple of inches to the brackets to bring up the rear. With Billy's condition, and to look extra-mean, we may just go for the leveling kit up front. How do you think we should adjust the height?