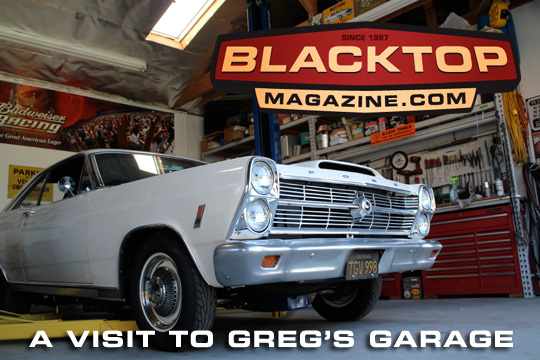 Photos/Story: T-Bone
In the afternoon shadows of Knott's Berry Farm's Xcelerator lies a garage of musclecar proportions. Greg is an Underoath Car Club Member who has a very impressive garage. Situated behind his house through a long drive-way running the length of his yard the garage was added on above and beyond. The roof of the main garage was raised to accommodate a two-post lift and a 4-car garage was added along side. A Ford enthusiast Greg helps his club-mates to restore, hot-rod and maintain their vehicles.
We had an opportunity to visit his garage last year and share with you some shots of the garage.
The show-piece of the garage is the street/strip ready 427 powered '67 Fairlane. I have been a big fan of these cars for a long time. Greg's is perfectly detailed. A lightweight bumper, fiberglass hood and electronic cutouts this car is fantastic.
Another jewel is the sleepy '69 Ford Torino with a 429 Cobra motor. All freshly restored and in beautiful shape. He is finishing restoring a Mustang GT and another '67 Fairlane sits at the far end.
While we were there the turntable was spinning some Buffalo Springfield on vinyl none-the-less.
As the Xcelerator is apointed with classic car styles and hot rod flames, we prefer the actual hot rods we can drive on the street. Thank you Greg for opening up your garage doors. We hope you enjoyed his garage as much as we do. Inspired to get in my garage and do some wrenchin'.