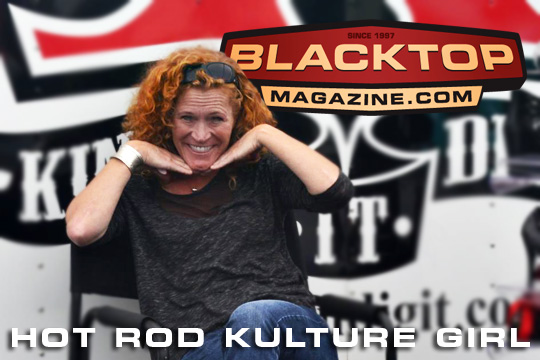 Story: Blacktop Staff, Photos: Supplied by Bleu Door Marketing
In what is looking like a series of significant women in the automotive world, we have recently met Sherri Candland. Her name may not be nationally recognized as yet, but she is behind some key builders and aftermarket companies, mostly helping with their marketing.
A car nut since birth, her father raced cars and ASET, the western warehouse for PPG Paint for over 30 years. ASET was also the west coast distributer for SATA and now is the North American distributor for IWATA big spray guns and air brushes. Sherri started on day a week doing the books, quickly became bored with that and focused on the art side of things and the airbrushes.
While in that role, she started a successful airbrush training and event program for Iwata, and created the underground "Ultimate Air Affair", which was a group of 16 leading airbrush artists teaching to a captive group. The project resulted in an art gallery at ASET in Salt Lake City. The classes continue today.
I met here when she was with Kindig-It Designs at the SEMA Show presenting the unique Kindig-It Custom Smooth Door Handles. Then she was put on the Apollo Ono build to get sponsors, and was responsible for gathering $80,000 worth of product for the build.
Today she owns Bleu Door Marketing using her traditional and social media marketing skills to help a variety of companies both in and out of the automotive arena. Sherri's focus has always been, and is still today that of the importance of personal relationships within our industry. She prides herself on her reputation and the close ties she has with many of our industry leaders. The automotive industry has been a male dominated one for decades and Sherri overcame those obstacles with a sense of humor and strong work ethic and was at one point considered not only the most influential women in the automotive airbrush world, but the most influential person as well.
Among Sherri and Bleu Door Marketing's other clients in the automotive industry are Clayton Machine Works, California Audio, RMS Vintage and Tink's Superior Automotive.
Bleu Door Marketing while specializing in the automotive arena is not pigeon-holed by it. Sherri does marketing for yoga studios, SUP paddle board manufacturers, high end photographers and even financial institutions. Recently we noticed she also started a paddle-board yoga training program. So as one could label her as a marketer, we see her more as an educator. Teaching airbrush techniques, teaching yoga on a board, and now teaching consumers of the value of her clients' brands.