Cleaning Parts with Evapo-Rust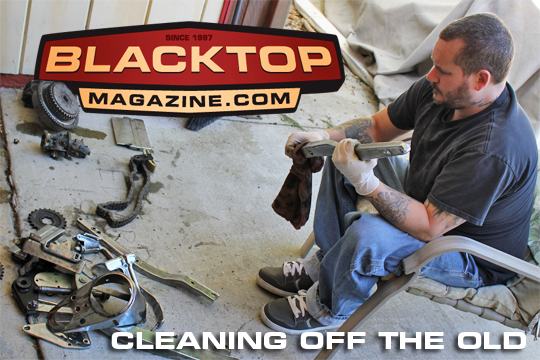 Story: John Oro, Photos: Blacktop Media Staff
Watching the American Pickers on the History Channel you hear the term Rusty Gold quite a bit. Uncovering the layers of history to find a truly valuable and unique item is a whole lot of fun. When we picked up the B.A.D. Bike from it's donor, a box of rusty gold was in the mix. After careful review of the parts we decided to clean away some of that "gold" to see if the part will do us any good, or if we need to find another. In the past I would wire-wheel the parts and dangerous rusty dust would be thrown in my face.
We saw a demonstration of Evapo-Rust at the SEMA Show. Endorsed by The Count of Count's Kustoms and Rick Dale from "American Restoration" also on the History Channel. I had an opportunity to sit down with Rick for an interview and found him to be a genuine guy. Not like some of the fake reality stars to come out of the woodwork lately. With his recommendation, we thought to give Evapo-Rust a try.
On Friday afternoon we sank a bunch of these parts in the yellow solution. One of the things I like about this solution is that it is super safe. Non-toxic, biodegradable, non flammable, etc. You can usually pour it right down the drain when spent. It is re-usable. It will remove rust until it turns black. On Saturday there was noticeable rust removal, but I was busy at a car show so we waited till Sunday to take the parts out of the solution. As you can see by the pics, the parts came clean. A simple wipe down to dry the parts and we now can see which parts are usable. Note the Clutch Bucket. When we opened the bin on Saturday, I turned the bucket over because the top wasn't submerged. It came out great! What was once rusted shut, now opened with a breeze.
I was telling our buddies at Primer Podcast about the product and Davis suggested electrolysis, Rebar, wire, battery charger and baking soda in a plastic bin. Like a leper in a bath tub removes paint and scale too. I find that as a fun experiment, but not a fan of electricity and water together.
On a side note: It would be best to clean the parts of any grease and grime before using a product like Evapo-Rust. We didn't and some of the grease and oil got mixed in with the solution and gave a grimey film to the parts. A simple wipe got them clean.
For raw metals that will remain raw for a while during your build project, we suggest spraying them with Rust-Block. Like Evapo-Rust, Rust-Block is safe, non-corrosive and biodegradable. It will protect from rust for up to 6 months!
You can find Evapo-Rust at many retailers including O' Reilly's, Ace Hardware and True Value. Visit www.Evapo-Rust.com for more information.
This article brought to you by the good folks at Barnett Clutches